BUY AT:
See more details, packaging, or compare
Synopsis
Robert Shaw (Young Winston), Harrison Ford (Raiders of the Lost Ark), Barbara Bach (Short Night of the Glass Dolls) and Edward Fox (The Day of the Jackal) star alongside Carl Weathers (Rocky), Richard Kiel (Moonraker) and Franco Nero (Django) in this star-studded high adventure. Directed with an assured hand by Bond veteran Guy Hamilton (Battle of Britain), this rip-roaring adaptation of Alistair MacLean's follow-up to the classic The Guns of Navarone sees the elite cadre of commandos embark on a secret mission deep in the Yugoslavian wilderness, during the darkest days of World War II.
Picture
8/10
Indicator presents Guy Hamilton's Force 10 from Navarone (a sequel to J. Lee Thompson's The Guns of Navarone) on Blu-ray in a limited edition 2-disc set. Indicator includes both the extended and theatrical versions, with the extended version on the first dual-layer disc and the theatrical version on the second single-layer disc. The extended edition is a complete re-edit so I have to assume that seamless branching was not a viable option for that reason. Both versions are presented in the aspect ratio of 2.39:1. The disc is also encoded for region B, so North American viewers will need Blu-ray players capable of playing back region B content.
Kino released the extended version in North America and their disc featured a new 2K restoration. I have not seen that edition and can't compare to this one, but I'm pretty sure this presentation is coming from an older high-definition master, not a newer one, and the notes Indicator provides for the master suggests that's the case since they only say Sony provided them a high-definition master (MGM owns the rights in North America while Sony owns the rights everywhere else). Having said that I still thought this looked quite good, and a lot of that just comes down to a solid encode, along with the fact that it looks like a fair amount of clean-up has gone into this. The image is still very sharp and clean, with a nice level of detail, textures on costumes and such looking good. Everything is cleanly defined, no edge-enhancement of note, nor is there any other digital anomaly for that matter.
The source also looks clean, but there are a handful of source-related issues in places. The opening sequence, which recaps the previous film, The Guns of Navarone, uses footage from that film and it looks like a theatrical print was more than likely used. There's also some combat footage that looks rough in comparison to the rest of the film, and the audio commentary points out that this was reused footage from The Battle of Britain. The rest of the damage comes down to a handful of marks and some print fluctuations. The supplements showcase some footage from the film pre-cleanup, and based on that you can see that Indicator (or whoever did another passthrough) has done a pretty solid job on cleaning the picture up.
Colours look nice (the blue skies can be very striking) and blacks are deep, but there are times where shadow detail is limited, creating a flat image. A nighttime action sequence looks very good, though. Grain is there but it's not all that cleanly defined or natural, and I think that comes down to the master itself. Despite some minor issues it is, overall, still a satisfying and clean looking presentation.
(I didn't notice a discernable difference between the presentations of the theatrical and extended. All screen grabs come from the extended version.)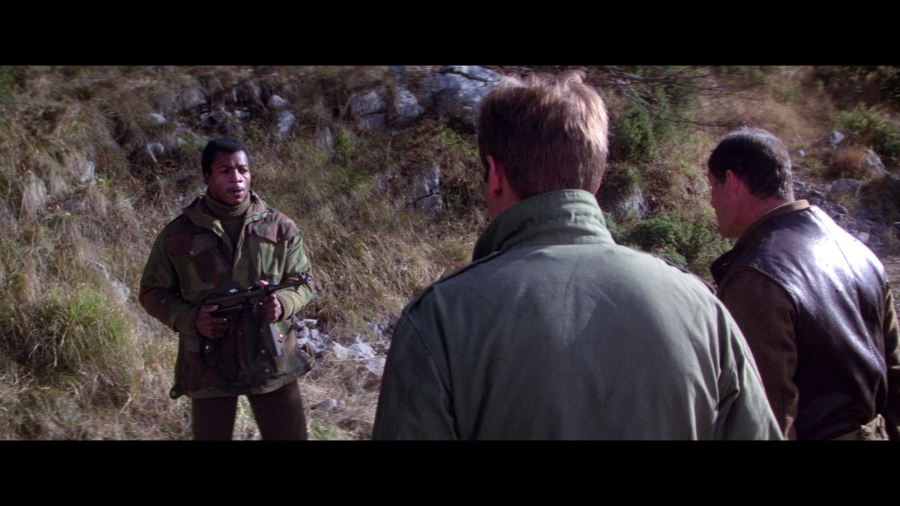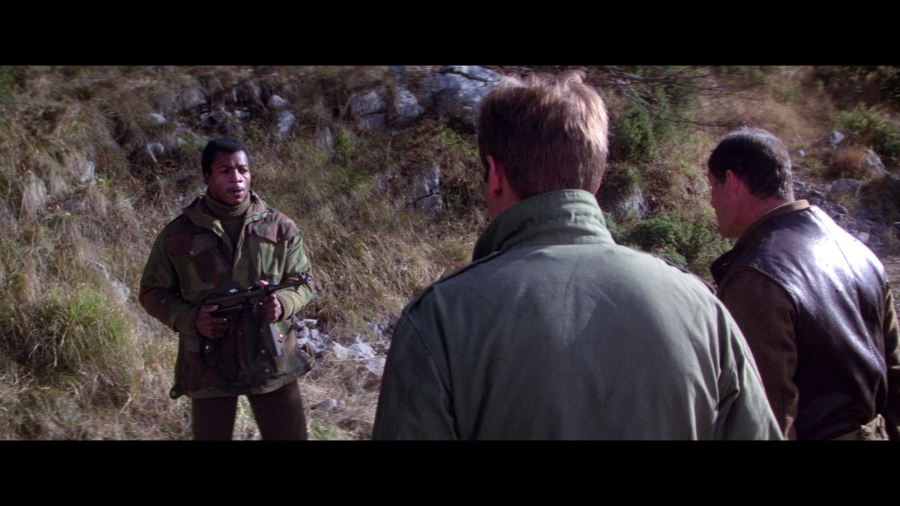 Audio
7/10
Indicator includes three English audio options, all in DTS-HD MA: 1.0 monaural, 2.0 stereo, and a 5.1 surround remix. I stuck with the 5.1 surround presentation while sampling the others. The monaural and stereo presentations are fine, just a bit flat, while the 5.1 presentation is far more dynamic. Even then, the mix is a bit underwhelming. Audio sticks primarily to the fronts, while music and some action makes its way to the rears. It sounds fine but I can't say the mix is ever all that imaginative when moving between through the environment, and I guess I was expecting more during the early airplane sequence and some of the later action scenes. It does its job, but only the bare minimum.
Extras
9/10
Indicator goes all out with their edition, packing on a number of special features that are all found on the first dual-layer disc, starting off with an audio commentary for the extended version of the film (originally recorded for Kino's North American Blu-ray edition) featuring film historians Steve Mitchell and Steven Jay Rubin. It's a fun little track that not only goes over the film's production (including why it took so long to make the sequel) but also touches on the World War II adventure films that were prevalent for a time along with the novel. They also talk about the many James Bond connections the film has and also get into the careers of its stars, with a particular focus on Shaw, who was becoming more of a bankable name around this time thanks to films like Jaws and The Sting. I can't say there is anything particularly revealing, and if one isn't fond of the film to begin with I doubt this track will change your mind, but I still found the two participants to be very entertaining and informative.
Indicator then digs up a 22-min program filmed during the making of the movie, entitled This is a Giant Movie. The program (which looks as though it may have been made for television, but I'm not sure) was filmed in Jersey (where it filled in for Yugoslavia) and features extensive footage around the stunt work. The best aspect, though, are fairly lengthy interviews with actors Carl Weathers and Edward Fox.
We then get a number of new interviews and these start off interestingly with actor Angus MacInnes, who plays Reynolds in the film. I wasn't sure what to expect from this 24-minute discussion, but it may be the best feature on here. MacInnes talks a little about being cast and what it was like working with the other actors in the film (and with director Hamilton, who he recalls didn't really appear to be "in to" the film), sharing a few stories. But the interview gets better when he just simply talks about all of the things he's learned about acting over the years, all from working with different actors who all had different styles, and how he's taken all of that into his own craft. I especially liked his recollection of how amazed he was at watching Max von Sydow work on Strange Brew, since he would get all of the technical things down perfectly before building his performance around that, and then every take of his would be the same. It's one of the best interviews of its type that I recall seeing recently.
From Žabljak with Love then gathers together 28-minutes' worth of interviews with a few members of the crew: stuntman Jim Dowdall, construction manager Terry Apsey, grip Dennis Fraser, make-up artist Peter Robb-King, and hairdresser Colin Jamison. They have been all recorded separately and edited together, and their stories can be quite funny. They do talk about the general production in detail but the interview, rather amusingly, spends more time on the hotel the film's crew had to stay at. MacInnes touches on this subject a bit in his interview, but the hotel that the crew stayed at (the cast stayed at the "better" hotel) while filming in Žabljak had been condemned and was reopened to accommodate the production. The hotel was literally falling apart (pipes exploding and everything) and it's all recounted here for your pleasure.
Next is a piece put together to commemorate cinematographer Christopher Challis, called Christopher Challis: A Life Behind the Lens, featuring archival interviews with Challis, along with interviews with crew members and other directors of photography, including Dennis Fraser (from the previous interview segment), Oswald Morris, John Palmer, and Sydney Samuelson, all of whom praise him and his work. Challis' footage features him talking about his career and then specific films, even recounting some regrets (like not doing Lawrence of Arabia, though admits it would have been a different film). Of interest, though, is that Indicator cuts in clips from films like The Tales of Hoffmann, and it looks like the clips from that film have been sourced from the new restoration.
We then get an 88-minute BEHP interview with composer Ron Goodwin with Linda Wood off screen (along with a third person, though I may have missed the name). Indicator has taken the raw footage of the interview and seem to be presenting it as-is, but they do edit in some other material to make the discussion less stale. And it is somewhat stale overall unfortunately, but Goodwin manages to throw in some bits of humour while he discusses things like how he got into music (which his mother told him he should only do as a hobby, not a career) and recalls what it was like working with Hitchcock on Frenzy (when asked how one knows exactly what the director wants he quips "you read his mind").
One of the more interesting features, at least from a technical perspective, is a 25-minute video essay about the different versions of the film, put together by Michael Brooke. Watching both the theatrical and extended versions you could tell there was something different about them, but it was hard to pin down exactly because the extended version, though longer, doesn't really add anything substantial to the story. This essay makes it clear that what it is, ultimately, is just a complete re-edit of the film, from adding and trimming scenes, using alternate takes, to even adding and dropping lines. And there are other odd changes: Angus MacInnes was originally dubbed over in the theatrical version—which he thinks hurt his career a bit—but the extended version uses his actual voice. Sound effects are even placed in different spots or cut out completely. It seems to cover all of the differences and does so in a very clear and straight-forward manner. I really appreciated this one.
Similar to some of their other titles, Indicator also includes the Super 8 Version of the film, which is like an early home video version you could say. But since the film had to fit on one reel it had to extensively cut (down to 17-minutes in this case) and it's funny watching them zip through the film: at 4-minutes we're already at the prison camp and the last third of the running time deals with the film's climax. All of the film's "twists" are dumped (of course) and some sequences depend on material that has been cut. I don't know how this ever worked for anybody, but I still love that this version has been included none the less and fascinating if only for historical reasons.
The disc then closes with a collection of US and UK promotional materials like TV spots and trailers, and then there is a gallery of production photos and poster art, as well as a document going over the film's international production. It's an interesting gallery that shows off how the film was pushed along the lines of a Bond film, right down to some bizarre Barbara Bach stills where she appears in a number of skimpy outfits that never once appear in the film.
The Limited Edition also includes a second single-layer disc featuring the theatrical cut for the film, along with an 80-page booklet. The booklet starts things off with a very extensive essay written by Sheldon Hall covering the film's production, getting a bit more into the delay between the first film and this one (to an extent, there doesn't seem to be much on why the production sort of died out after 1969), followed by two articles written by William Hall about the film's production for Photography magazine. There is then a reprint of an interview Robert Shaw did for the The Daily Mail (where, as the notes point out, Shaw contradicts things he was quoted to have said in one of the previous articles), which makes for a great (unfortunately short) read as Shaw questions some recent choices. We then get a wonderfully put together piece editing together recollections around the production from screenwriter George MacDonald Fraser and cinematographer Christopher Challis. Then, as usual, the booklet closes off with critical responses of the time, with only one of them coming close to being a positive one.
In all I was very surprised with what has been put together here. I don't think the supplements will bring on any new converts to the film, but the supplements end up all being quite fascinating and even fun to go through. I think fans of the film will be more than pleased with what's here.
Closing
A solid special edition for the film, putting together both versions of the film (with nice presentations) and a slew of special features that do go well and beyond what I would expect for the film. An easy recommendation for fans.
BUY AT: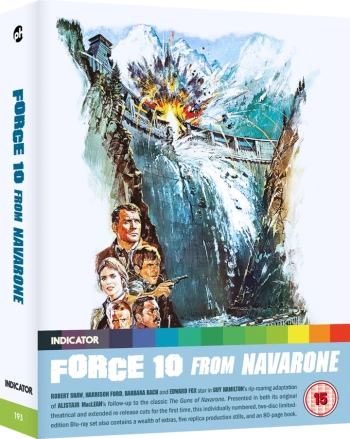 Blu-ray
2 Discs | BD-25/BD-50
2.39:1 ratio
English 1.0 DTS-HD MA Mono
English 2.0 DTS-HD MA Stereo
English 5.1 DTS-HD MA Surround
Subtitles: English
Region B
Extended version with original mono audio, and alternative stereo and 5.1 surround options (126 mins) Limited edition exclusive presentation of the original theatrical cut, with mono audio (118 mins) Audio commentary on the extended version with film historians
Steve Mitchell
and
Steven Jay Rubin
(2020)
This Is a Giant Movie
(1978, 21 mins): archival location report by Channel Television featuring interviews with producer
Oliver A. Unger
, and actors
Edward Fox
and
Carl Weathers
Tour de Force
(2020, 24 mins): actor
Angus MacInnes
recalls his early film role
From Zabljak with Love
(2020, 28 mins): the making of the film as told by construction manager
Terry Apsey
, stuntman
Jim Dowdall
, grip
Dennis Fraser
, chief hairdresser
Colin Jamison
, and chief make-up artist
Peter Robb-King
A Life Behind the Lens
(2020, 33 mins): a tribute to the acclaimed cinematographer
Christopher Challis
, featuring interviews with fellow directors of photography and camera crew
Dennis Fraser
,
Oswald Morris
,
John Palmer
and
Sydney Samuelson
, as well as archival footage of Challis
The BEHP Interview with Ron Goodwin
(1999, 89 mins): archival video, made as part of the British Entertainment History Project, featuring the celebrated composer in conversation with
Linda Wood
A Show of Force
(2020, 26 mins): a look at the different versions of Force 10 from Navarone Super 8 version: cut-down home cinema presentation UK Theatrical Trailer US Theatrical Trailer TV Spot Radio Spot Image gallery: publicity and promotional material Limited edition exclusive 80-page book with a new essay by
Sheldon Hall
, archival production reports including interviews with cast and crew members, an interview with actor
Robert Shaw
, recollections of the film's Yugoslavia shoot excerpted from the memoirs of cinematographer
Christopher Challis
and screenwriter
George MacDonald Fraser
, an overview of contemporary critical responses, and film credits Limited edition exclusive set of five replica production stills