Andrzej Wajda: Three War Films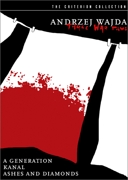 In 1999, Polish director Andrzej Wajda received an Honorary Academy Award for his body of work: more than thirty-five feature films, beginning with A Generation in 1955. Wajda's next film, Kanal, the first ever made about the Warsaw Uprising, won the Special Jury Prize at Cannes and launched Wajda on the path to international renown, a status secured with the release of his masterpiece, Ashes and Diamonds, in 1958. These three groundbreaking films helped usher in the Polish School movement and have often been regarded as a trilogy. But each boldly stands on its own—a testament to the resilience of the human spirit and the struggle for personal and national freedom. The Criterion Collection is proud to present this director-approved edition, with new transfers of all three films and extensive interviews with the filmmaker and his colleagues.
Criterionforum.org user rating averages
A Generation
Stach is a wayward teen living in squalor on the outskirts of Nazi-occupied Warsaw. Guided by an avuncular Communist organizer, he is introduced to the underground resistance—and to the beautiful Dorota. Soon he is engaged in dangerous efforts to fight oppression and indignity.
Criterionforum.org user rating averages
Kanal
"Watch them closely, for these are the last hours of their lives," announces a narrator, foretelling the tragedy that unfolds as a war-ravaged company of Home Army resistance fighters tries to escape the Nazis through the sewers of Warsaw. Kanal was the first film about the Warsaw Uprising.
Criterionforum.org user rating averages
Ashes and Diamonds
On the last day of World War II, Polish exiles of war and the occupying Soviet forces confront the beginning of a new day and a new Poland. In this incendiary environment, we find Home Army soldier Maciek Chelmicki, who has been ordered to assassinate an incoming commissar.
Criterionforum.org user rating averages
DIRECTOR-APPROVED SPECIAL EDITION THREE-DISC SET:
-New, restored high-definition digital transfers
-Audio commentary by film scholar Annette Insdorf on Ashes and Diamonds
-More than ninety minutes of exclusive new interviews with Andrzej Wajda and colleagues, discussing the director's career and the making of these films
-Vintage newsreel on the making of Ashes and Diamonds
-Ceramics from Ilza (Ceramika Ilzecka), Wajda's 1951 film school short
-Jan Nowak-Jezioranski: Courier from Warsaw, an interview by Wajda of a Warsaw Uprising insider
-Rare behind-the-scenes production photos, publicity stills, and posters
-A gallery of Wajda's original drawings and paintings
-New and improved English subtitle translations
-PLUS: New essays by film scholars and critics Ewa Mazierska, John Simon, and Paul Coates