Takashi Miike
(1960 - )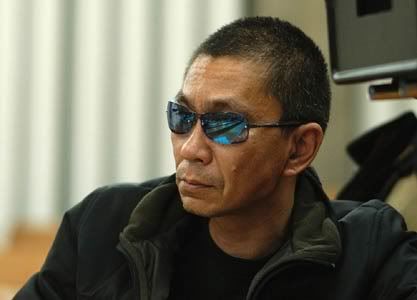 So my attitude is that I don't refuse any offers,
but I really consider the way to do it very carefully.
I think there are two types of directors. One is the
type that is very careful of himself and chooses the
subjects that fit him and that he really wants to do
and he does them carefully. The other type does one
thing after another and is not afraid of changing himself.
He changes naturally while making these films one after
another. I am the second type, but for me working so
much is not intentional. I worked very hard as an assistant
director so that became my routine.
~ Takashi Miike
(from interview with Tom Mes,
Midnight Eye
, 1 May, 2001)
Filmography
Rasuto ran: Ai to uragiri no hyaku-oku en shissô Feraari 250 GTO / Last Run: 100 Million Ten's Worth of Love & Betrayal
(TV, 1991)
Toppuu! Minipato tai Aikyacchi Jankushon
(video, 1991)
Redi hanta: Koroshi no pureyuudo / Red Hunter: Prelude to Murder
(video, 1991)
Ningen kyôki: Ai to ikari no ringu / A Human Murder Weapon
(video, 1992)
Bodigaado Kiba / Bodyguard Kiba
(video, 1993)
Oretachi wa tenshi ja nai
(video, 1993)
Oretachi wa tenshi ja nai 2
(video, 1993)
Shinjuki autoroo / Shinjuku Outlaw
(video, 1994)
Bodigaado Kiba: Shura no mokushiroku / Bodyguard Kiba: Combat Apocalypse
(video, 1994) Media Blasters (R1) / Film 2000 (R2 UK)
Daisan no gokudô / The Third Gangster
(video, 1995)
Bodigaado Kiba: Shura no mokushiroku 2 / Bodyguard Kiba: Combat Apocalypse 2
(video, 1995) Media Blasters (R1) / Pony Canyon (R2 JP)
Naniwa yuukyôden / Osaka Tough Guys
(video, 1995) Artsmagic (R1) included in
Miike Madness 2
Shinjuku kuroshakai: Chaina mafia sensô / Shinjuku Triad Society
(1995) Artsmagic (R1) included in
Black Society Trilogy
/ Tartan (R2 UK) / Fox Pathé (R2 FR) included in
Coffret Takashi Miike
/ Kadokawa (R2 JP)
Shin daisan no gokudô- boppatsu Kansai gokudô sensô / New Third Gangster: Outbreak Kansai Yakuza Wars
(video, 1996)
Shin daisan no gokudô II / New Third Gangster 2
(video, 1996)
Jingi naki yabô
(video, 1996)
Rakkasei: Piinattsu
(video, 1996)
Kenka no hanamichi: Oosaka saikyô densetsu / The Way to Fight
(video, 1996) Media Blasters (R1) / KSS Films (R2 JP)
Gokudô sengokushi: Fudô / Fudoh: The New Generation
(1996) Media Blasters (R1) / Eastern Cult Cinema (R2 UK) / SPO Entertainment (R2 JP) included in
Gokudô sengokushi: Fudô Box Set
Kishiwada shônen gurentai: Chikemuri junjô-hen / Young Thugs: Innocent Blood
(1997) Artsmagic (R1) double feature with
Young Thugs: Nostalgia
/ Artsmagic (R2 UK) / Shochiku (R2 JP)
Jingi naki yabô 2
(video, 1997)
Gokudô kuroshakai / Rainy Dog
(1997) Artsmagic (R1)included in
Black Society Trilogy
/ Tartan (R2 UK) / I-On Media (R2 DE) / Fox Pathé (R2 FR) included in
Coffret Takashi Miike
/ Toshiba (R2 JP)
Full Metal gokudô / Full Metal Yakuza
(video, 1997) Artsmagic (R1) included in
The Films of Takashi Miike
/ Eastern Cult Cinema (R2 UK) / Asian Film Network (R2 DE) / Tokuma (R2 JP)
Chûgoku no chôjin / The Bird People in China (1998)
Artsmagic (R1) included in
Miike Madness 2
/ Beam Entertainment (R2 JP) / Universe (R3 HK)
Andoromedia / Andromedia
(1998) Pathfinder (R1) / Toy's Factory (R2 JP)
Blues Harp
(1998) Asian Film Network (R2 DE) / Starmedia (R2 DE) / Beam Entertainment (R2 JP)
Kishiwada shônen gurentai: Bôkyô / Young Thugs: Nostalgia (1998)
Artsmagic (R1) double feature with
Young Thugs: Innocent Blood
/ Shochiku (R2 JP)
Tennen shôjo Man / Man, a Natural Girl
(TV series, 1999) Pony Canyon (R2 JP)
Nihon kuroshakai / Ley Lines
(1999) Artsmagic (R1) included in
Black Society Trilogy
/ Tartan (R2 UK) / Fox Pathé (R2 FR) included in
Coffret Takashi Miike
/ Tokuma (R2 JP)
Silver shirubaa
(video, 1999) Media Blasters (R1) / Film 2000 (R2 UK) / Pony Canyon (R2 JP)
Ôdishon / Audition (1999)
Lionsgate (R1) / Tartan (R2 UK) / Studio Canal (R2 FR) / One World (R2 DE) / Pioneer (R2 JP) /Universe (R3 HK) / Siren (R4 AU)
Dead or Alive: Hanzaisha / Dead or Alive
(1999) Kino (R1) included in
Dead or Alive: Trilogy
/ Tartan (R2 UK) / Wild Side (R2 FR) " also included in
Dead or Alive 1, 2 & 3
/ One World (R2 DE) / Toei (R2 JP)
Sarariiman Kintarô / White Collar Worker Kintaro
(1999) Pathfinder (R1) / Asian Film Network (R2 DE)
Tennen shôjo Man next: Yokohama hyaku-ya hen / Man, Next Natural Girl: 100 Nights in Yokohama
(TV, 1999)
Tsukamoto Shin'ya ga Ranpo suru / The Making of Gemini'
(video, 2000) Image Entertainment (R1) included on the release of Tsukamoto's
Gemini
/ Starmax (R3 KR) included on the release of Tsukamoto's
Gemini
Tajuu jinkaku tantei saiko " Amamiya Kazuhiko no kikan / MPD Psycho (Multiple Personality Detective) (TV series, 2000)
Brentwood (R1) complete series / Ventura (R1) released in three separate volumes / Film 2000 (R2 UK) released in three separate volumes or as box set / Kadokawa (R2 JP) released in three separate volumes / Universe (R3 HK) released in six separate volumes
Hyôryû-gai / The City of Lost Souls
(2000) Ventura (R1) / Tartan (R2 UK) / I-On Media (R2 DE) / Kadokawa (R2 JP) / Mei Ah (R3 HK)
Tengoku kara kita otoko-tachi / The Guys from Paradise
(2000) Shochiku (R2 JP)
Dead or Alive 2: Tôbôsha / Dead or Alive 2: Runaway
(2000) Kino (R1) included in
Dead or Alive: Trilogy
/ Tartan (R2 UK) / Wild Side (R2 FR) included in
Dead or Alive 1, 2 & 3
/ Toei (R2 JP) / City Connection (R3 HK)
Zuiketsu genshô - Tonkararin yume densetsu
(2001) VAP (R2 JP) included in
Kumamoto Monogatari
Kikuchi-jô monogatari - sakimori-tachi no uta
(2001) VAP (R2 JP) included in
Kumamoto Monogatari
Family
(2001) Media Blasters (R1) in two parts / Film 2000 (R2 UK)
Bijitâ Q / Visitor Q (video, 2001)
Media Blasters (R1) / Tartan (R2 UK) / Studio Canal (R2 FR) / Pony Canyon (R2 JP)
Koroshiya 1 / Ichi the Killer
(2001) Media Blasters (R1) / Premier Asia (R2 UK) / Pioneer (R2 JP) / Universe (R3 HK) / Siren (R4 AU)
Araburu tamashii-tachi / Agitator
(2001) Tartan (R2 UK) / I-On Media (R2 DE)
Katakuri-ke no kôfuku / The Happiness of the Katakuris
(2001) Ventura (R1) / Tartan (R2 UK) / I-On Media (R2 DE) / Fortex (R3 HK)
Dead or Alive: Final
(2002) Kino (R1) included in
Dead or Alive: Trilogy
/ Tartan (R2 UK) / Wild Side (R2 FR) included in
Dead or Alive 1, 2 & 3
/ Toei (R2 JP) / City Connection (R3 HK)
Onna kunishuu ikki
(2002) VAP (R2 JP) included in
Kumamoto Monogatari
Sabu
(TV, 2002) Artsmagic (R1) included in
The Films of Takashi Miike
/ Artsmagic (R2 UK) / Shochiku (R2 JP)
Shin jingi no hakaba / New Graveyard of Honor
(2002) AnimEigo (R1) REM (R2 DE) available as double feature with Fukasaku's film of the same title from 1975 / Toei (R2 JP)
Kin'yû hametsu Nippon: Tôgenkyô no hito-bito / Shangri-La
(2002)
Pandoora
(video, 2002)
Jitsuroku Andô Noboru kyôdô-den: Rekka / Violent Fire
(2002) Media Blasters (R1)
Paato-taimu tantei / Part-time Detective
(TV, 2002)
Gokudô seisen: Jihaado
(2002) Pony Canyon (R2 JP)
Gokudô seisen: Jihaado 2
(2002) Pony Canyon (R2 JP)
Gokudô seisen: Jihaado 3
(2002) Pony Canyon (R2 JP)
Yurusarezaru mono / The Man in White
(2003) Pony Canyon (R2 JP) released in two separate volumes
Gokudô kyôfu dai-gekijô: Gozu / Gozu (2003)
Pathfinder (R1) / Tartan (R2 UK) / Wild Side (R2 FR) / Pioneer (R2 JP)
Kikoku / Yakuza Demon
(video, 2003) Art Port (R2 JP) Pathfinder (R1)
Kôshônin / The Negotiator
(TV, 2003) Media Blasters (R1) / Pony Canyon (R2 JP)
Chakushin ari / One Missed Call
(2003) Media Blasters (R1) / E.M.S. (R2 DE) / Kadokawa (R2 JP) / Spectrum (R3 KR)
Zebraman
(2004) Studio Canal (R2 FR) / Toei (R2 JP)
Paato-taimu tantei 2 / Part-time Detective 2
(TV, 2004)
Saam gaang yi / Three¦ Extremes (segment, 2004)
Lionsgate (R1) / Tartan (R2 UK) / Kadokawa (R2 JP) / Mega Star (R3 HK) / CJ Entertainment (R3 KR)
Izo
(2004) Media Blasters (R1) / Rapid Eye (R2 DE) / KSS Films (R2 JP)
Urutoraman Makkusu / Ultraman Max
(TV series, 2005) Bandai Visual (R2 JP) released in five separate volumes
Yokai daisenso / The Great Yokai War
(2005) Media Blasters (R1) / Shochiku (R2 JP) / Universe (R3 HK)
46-okunen no koi / A Big Bang Love: Juvenile
(2006) Shochiku (R2 JP)
Waru
(2006)
Masters of Horror
(TV episode, 2006) Anchor Bay (R1) / Anchor Bay (R2 UK) - included in
Masters of Horror, Series 1, Vol. 2
/ Shochiku (R2 JP) included in
Masters of Horror, Series 1, Vol. 1
Waru: kanketsu-hen
(video, 2006) GP Museum (R2 JP)
Taiyo no kizu / Sun Scarred
(2006) Toei (R2 JP)
Like a Dragon / Ryu ga gotoku: gekijo-ban
(2007)
Sukiyaki Western Django
(2007)
Crows Zero
(2007)
Kamisama no pazuru / God's Puzzle
(2008)
Yattaman / Yatterman
(2009)
Zeburâman: Zebura Shiti no gyakushu / Zebraman 2: Attack on Zebra City
(2010)
Jusan-nin no shikaku / 13 Assassins
(2010)
Ichimei / Hara-Kiri: Death of a Samurai
(2011)
General Discussion
Artsmagic
Japanese Horror
Takashi Miike on DVD
[url=
viewtopic.php?t=6519
]Takashi Miike and