Budd Boetticher
(1916-2001)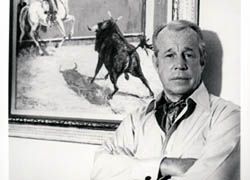 Burt wrote five of the seven screenplays, and he
was a great, great writer and is a wonderful director
and one of my dearest friends. We wrote and directed
as two great friends who work together instead of a
writer and director who didn't get along, trying to take
control of the picture. It was just a difference; we had
artistic control and fortunately we were artists. A very
simple answer [as to] why they were better pictures…
We knew what we were going to do. We made those
Scott pictures in 18 days. Three weeks, six days a week.
Filmography
One Mysterious Night
* (1944)
The Missing Juror
* (1944)
Youth on Trial
* (1945)
A Guy, a Gal and a Pal
* (1945)
Escape in the Fog
* (1945)
The Fleet That Came to Stay
* (1945)
Assigned to Danger
* (1948)
Behind Locked Doors
* (1948) Kino (R1) -- also included in Film Noir: The Dark Side of Hollywood
Black Midnight
* (1949)
The Wolf Hunters
* (1949)
Killer Shark
* (1950)
The Three Musketeers
(TV, 1950)
Bullfighter and the Lady
(1951) Suevia (R2 ES)
The Cimarron Kid
(1952) Universal (R1) -- as part of
Classic Western Round-Up, Vol. 2
Bronco Buster
(1952)
Red Ball Express
(1952)
Horizons West
(1952)
City Beneath the Sea
(1953)
Seminole
(1953) Optimum Releasing (R2 UK)
The Man from the Alamo
(1953) Universal (R1) -- as part of
Classic Western Round-Up, Vol. 2
/ Universal (R2 UK)
East of Sumatra
(1953)
Wings of the Hawk
(1953)
The Public Defender
(TV episode "Living a Lie", 1954) Alpha (R1 US) – included in "The Public Defender - Volume 1"
The Magnificent Matador
(1955) Suevia (R2 ES)
Alias Mike Hercules
(TV series, 1956)
The Killer is Loose
(1956)
Seven Men from Now
(1956) Paramount (R1)
The Count of Monte Christo
(TV episode "The Affair of the Three Napoleons", 1956)
The Tall T
(1957) Sony Pictures (R1 US) – included in "The Films of Budd Boetticher"
Maverick
(3 TV episodes "According to Hoyle", "Point Blank" and "War of the Silver Kings", 1957)
Decision at Sundown
(1957) Sony Pictures (R1 US) – included in "The Films of Budd Boetticher"
Buchanan Rides Alone
(1958) Sony Pictures (R1 US) – included in "The Films of Budd Boetticher"
77 Sunset Strip
(TV series, 1958)
Westbound
(1959) Warner Bros (R1 US) – as part of the Archive Collection
Ride Lonesome
(1959) Sony Pictures (R1 US) – included in "The Films of Budd Boetticher"
The Rise and Fall of Legs Diamond
(1960)
Comanche Station
(1960) Sony Pictures (R1 US) – included in "The Films of Budd Boetticher"
Hong Kong
(TV series, 1960)
Zane Grey Theater
(4 TV episodes "The Long Shadow", "Ambush", "Ransom" and "Desert Flight", 1960-1961)
The Rifleman
(TV episode "Stopover", 1961)
A Time for Dying
(1969)
Arruza
(1972)
My Kingdom For
(1985)
* signed as Oscar Boetticher
Forum Ressources
Budd Boetticher Box Set
Classic Western Round-Up, Volume 1 and 2
Film Forum's Essential Western Series
Paramount: Wellman, Boetticher
Randolph Scott
Web Ressources
Boston Phoenix
-- article by Chris Fujiwara
Film Reference
GreenCine
-- interview with Boetticher
The Guardian
– obituary
Hungry Ghost
– "Man of the West" article by David Chute, originally printed in LA Weekly, July 28 - August 3, 2000
imdb
Senses of Cinema
-- profile on Boetticher
Senses of Cinema
-- short article on Boetticher's westerns
Senses of Cinema
– "Budd Boetticher and the Westerns of Ranown"
They Shoot Pictures