Lewis Milestone (1895-1980)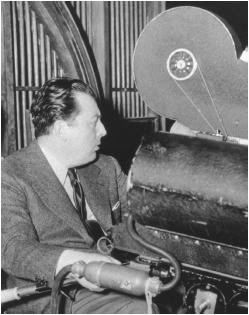 Filmography
Posture
(1918)
Positive
(1918)
The Toothbrush
(1918)
Fit to Win
(1919)
Seven Sinners
(1925)
The Caveman
(1926)
The New Klondike
(1926)
Fine Manners
(uncredited, 1926)
The Kid Brother
(uncredited, 1927) New Line (R1) -- as part of
The Harold Lloyd Collection
/ Optimum Releasing (R2 UK) -- as part of
Harold Lloyd: The Definitive Collection
Two Arabian Knights
(1927)
The Garden of Eden
(1928) Flicker Alley (R1)
Tempest
(uncredited co-director, 1928) Image Entertainment (R1) / Kino (R1) -- also included in the
John Barrymore Collection
The Racket
(1928)
Betrayal
(1929)
New York Nights
(1929)
All Quiet on the Western Front
(1930) Universal (R1) / Universal (R2 UK)
The Front Page
(1931) Madacy (R1)
Rain
(1932) Image Entertainment (R1) / Alpha (R1) / Roan (R1)
Hallelujah I'm a Bum
(1933) MGM (R1)
The Captain Hates the Sea
(1934)
Paris in Spring
(1935)
Anything Goes
(1936)
The General Died at Dawn
(1936) Universal (R1) -- as part of The Gary Cooper Collection / Opening (R2 FR)
The Night of Nights
(1939)
Of Mice and Men
(1939) Image Entertainment (R1) / Arrow Films (R2 UK)
Lucky Partners
(1940) Manga Films (R2 ES)
Know For Sure
(uncredited, 1941)
My Life with Caroline
(1941)
Our Russian Front
(1942)
Edge of Darkness
(1943)
The North Star
(1943) Catcom (R1) -- as double-bill with Orson Welles'
The Stranger
Guest In the House
(uncredited, 1944) Alpha (R1) / Glass Key (R2 UK)
The Purple Heart
(1944) 20th Century Fox (R1) / 20th Century Fox (R2 UK)
A Walk in the Sun
(1945) Alpha (R1) / Front Row (R1) / VCI (R1) --
tbr August 2009 in a restored and un-cut edition
The Strange Love of Martha Ivers
(1946) Paramount (R1) / Image Entertainment (R1) / Alpha (R1)
Arch of Triumph
(1948) Kinowelt (R2 DE) /Suevia (R2 ES) / Lionsgate (R1 US) --
tbr October 2009
No Minor Vices
(1948)
The Red Pony
(1949)
Artisan (R1)
Halls of Montezuma
(1950) 20th Century Fox (R1) -- also included in Heroes of War Collection: Frontline Combat / 20th Century Fox (R2)
Kangaroo
(1952)
Les Miserables
(1952) 20th Century Fox (R1) -- as double-bill with Richard Boleslawski's film version from 1935
Melba
(1953)
La Vedova X (The Widow)
(1954)
They Who Dare
(1954) Optimum Releasing (R2 UK) -- also included in
The Complete War Collection
Schlitz Playhouse of Stars
(TV episode "Guys Like O'Malley", 1958)
Suspicion
(TV episode "The Bull Skinner", 1958)
Have Gun - Will Travel
(2 TV episodes "Hey Boy's Revenge" and "Girl from Piccadilly", 1958) Paramount (R1) -- included in Have Gun - Will Travel: The Complete 1st Season
Pork Chop Hill
(1960) MGM (R1) / MGM (R2 UK)
Ocean's Eleven
(1960) Warner Brothers (R1) -- also included in The Rat Pack Collection / Warner Brothers (R2 UK)
Mutiny on the Bounty
(1962) Warner Brothers (R1) -- also included in
The Marlon Brando Collection
The Richard Boone Show
(TV episode "The Hooligan", 1964)
Arrest and Trial
(2 TV episodes "A Roll of the Dice" and "An Echo of Conscience", 1964) EDI Video (R1 US) -- included in
Arrest & Trial: Part 1 (1963-1964)
Forum Discussion
All Quiet On the Western Front
Alpha
-- brief references to
A Walk In the Sun
and
Rain
.
Flicker Alley
-- discussion of the status of release of Milesone's
Two Arabian Knights
and
The Racket
.
Hallelujah, I'm a Bum!
The Red Pony (Lewis Milestone, 1949)
Recommended Web Resources
Ferdinand Von Galitzien
-- The illustrious Count talks about
The Garden of Eden
on his blog.
Film Reference
imdb
Pix
-- short appraisals of several Milestone films by one Christopher Mulrooney
They Shoot Pictures, Don't They?