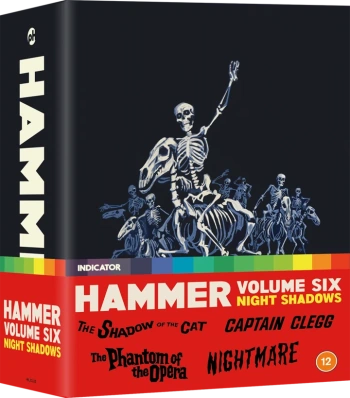 Release Date:

June 28 2021
Buy At:
The Shadow of the Cat | Night Creatures | The Phantom of the Opera | Nightmare
Universal Studios Home Entertainment
Featuring:
Herbert Lom
,
David Knight
,
André Morell
,
Peter Cushing
,
Barbara Shelley
,
Yvonne Romain
,
Moira Redmond
,
Heather Sears
,
Jennie Linden
,
Patrick Allen
,
Edward de Souza
,
William Lucas
,
Brenda Bruce
,
Thorley Walters
,
Freda Jackson
,
Martin Benson
,
David Lodge
,
Michael Gough
,
Conrad Phillips
,
George A. Cooper
,
Richard Warner
,
Derek Francis
,
Harold Goodwin
,
Oliver Reed
,
Martin Miller
,
Liane Aukin
,
Michael Ripper
,
Daphne Anderson
,
Sonya Cordeau
,
Milton Reid
,
Marne Maitland
,
Jack MacGowran
Hammer Volume Six: Night Shadows revives four consummate Hammer classics from the early sixties, exemplifying some of Hammer Films' best work in the horror and thriller genres. Edgar Allan Poe looms large in The Shadow of the Cat, a macabre 'old dark house' tale of feline revenge, starring André Morell (Cash on Demand) and Barbara Shelley (The Camp on Blood Island); Peter Cushing (The Gorgon, Corruption) and Oliver Reed (The Scarlet Blade) star in Captain Clegg, which sees Hammer fuse horror and adventure in an eighteenth-century-set tale of smugglers and marsh phantoms; Herbert Lom (Mysterious Island) stars as The Phantom of the Opera in Hammer's acclaimed production of Gaston Leroux's Gothic classic, whilst Freddie Francis (Torture Garden) directs Nightmare, a spooky psychological thriller in the Les Diaboliques vein, which benefits from full-blooded central performances by Moira Redmond (Jigsaw) and Jennie Linden (A Severed Head).

This collection contains a wealth of new and archival extra features, including documentaries and appreciations, interviews with actors and crew members, audio commentaries, and extensive booklets. Strictly limited to 6,000 numbered units.
Year:

1961 | 1962 | 1962 | 1964

Time:

79 | 82 | 84 | 83 min.
Technical Specifications
Aspect Ratio:
1.66:1 , 1.66:1 , 1.85:1 , 2.00:1 , 2.35:1
Audio:
English 1.0 PCM Mono , English 1.0 PCM Mono , English 1.0 PCM Mono , English 1.0 PCM Mono
Details by Film
Supplements
Forum Member Statistics
Release Notes on Restoration