See more details, packaging, or compare
Synopsis
Adapting the acclaimed novel by Ian McEwan, playwright and screenwriter Harold Pinter lends his trademark unnerving dialogue and air of creeping menace to this spellbinding study of power, control, and the frighteningly thin line between pleasure and pain. Rupert Everett and Natasha Richardson are the prey, a beautiful British couple working on their relationship while on holiday in Venice; Christopher Walken and Helen Mirren are the hunters who draw them into the sinister web of their opulent, old-world palazzo. What plays out is an unsettling, sadomasochistic seduction imbued with an atmosphere of sumptuous dread by the elegantly gliding tracking shots of cinematographer Dante Spinotti, lush score by Angelo Badalamenti, and carefully controlled direction of Paul Schrader, who choreographs a mesmerizing pas de quatre of sustained erotic and emotional tension.
Picture
8/10
Lacking any digital disc release in North America, Paul Schrader's The Comfort of Strangers comes to Blu-ray from The Criterion Collection, presented in the aspect ratio of 1.66:1 on a dual-layer disc (other releases have presented the film in a 1.85:1 ratio). The 1080p/24hz high-definition presentation comes from a new 4K restoration scanned from the super 35mm original camera negative.
I have not seen BFI's region B edition so cannot compare, but I was very pleased with the presentation we get here. The overall presentation has a nice film-like texture to it and does a solid job rendering details. The level of grain can vary depending on the shot: some outdoor sequences present grain that can barely register, while darker sequences can look a little coarser. Detail levels are pretty strong for the most part, and the various settings, from the streets of Venice to some of the opulent interiors, do deliver well enough. Having said that, there is an ever-so-slight slight softness to the image that I ultimately put down to the photography.
Colours lean heavily on the teal, which impacts the water of the Venice setting, giving it a bluer look. Interiors aren't impacted as much, though. Though not always the case, blacks can get very heavy, to an almost stifling degree in a number of darker interiors, and this hurts delineation in a few sequences. Colours still manage to pop, though, and saturation looks fine.
The print is in excellent condition, though I sometimes wondered if another source had to be used in a few shots: there are a handful of them throughout the film that have a slight, "dupey" look to them, where grain management isn't as clean as what most of the film shows. The notes make no mention of this being the case. Still, it's a pleasing presentation, and one I'm surprised by considering how overlooked the film has been in North America.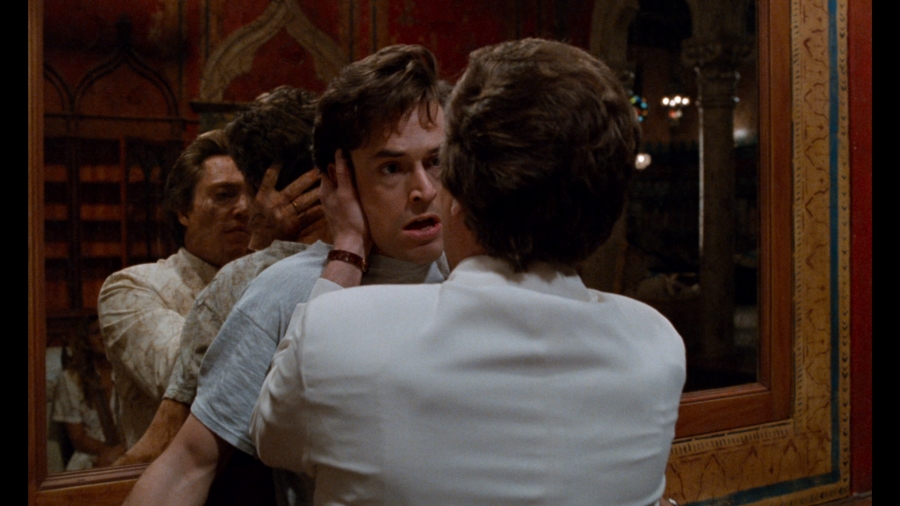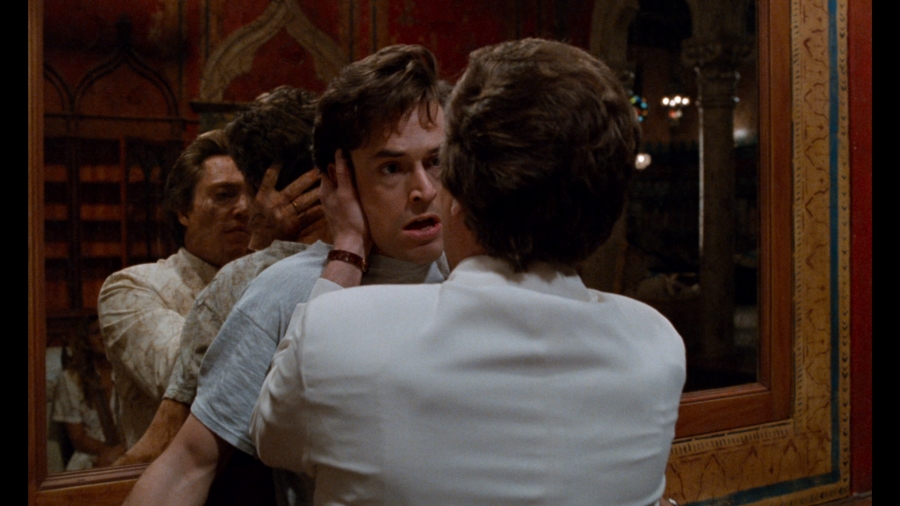 Audio
7/10
Somewhat shockingly (for such a newer film) only a monaural soundtrack is provided, presented in lossless PCM. Despite the fact it's only a single-channel track it does go above and beyond, providing a rather rich experience with excellent fidelity and wide range. Dialogue is crisp and clear, the film's score swells appropriately without any distortion, and there is no damage to speak of.
Extras
7/10
The supplements end up being surprisingly slim, made up entirely of interviews, both new and archival. Paul Schrader starts things off with his 17-minute interview, with the director recounting how he became involved with the project. He admits this wasn't a very personal one to him, explaining how the film was offered to him after John Schlesinger dropped out (with Schlesinger being the one to have cast Rupert Everett). There are some surprises in here in relation to the production, the biggest one being that Schrader wanted to cast Al Pacino in the role that went to Walken (he admits Walken was a better choice), and how the actors took issue with Pinter's dialogue, something I thought they would have been all over, with Schrader having to bring the writer to Vienna to help them. He also points out the film references he threw in for film buffs (I got the Last Year at Marienbad one but completely missed the one around Orpheus). It's a great reflection by Schrader, but even if he is obviously proud of the film you can still tell he's not all that invested in it.
Criterion also includes a couple of actor interviews, starting with an archival one from 2001 featuring Natasha Richardson followed by a newly recorded one featuring Christopher Walken. Richardson's is a 6-minute excerpt from an interview she did with the AFI she talks about taking on a more "glamourous" role in comparison to Schrader's Patty Hearst. Walken's interview is also disappointingly short (also 6-minutes, with about a minute of that being taken up by clips), but he's quite a hoot. He expresses surprise at how he was suddenly being cast left and right as the villain in a number of films in the 80s and 90s, and how that probably led to him being cast in this film. He then humourously admits he's terrible at impersonation and explains how the accent he took up was based on Rossano Brazzi in Summertime (Schrader, in his interview, says the accent was initially worse, more of a New York-Italian one). He talks a little about how he prepares and how he works with the actors around him, and so on. Again, it's disappointingly short but still pretty good, and I'm happy he was able to sit down for a bit.
There are then a couple of interviews with members of the crew, director of photography Dante Spinotti and editor Bill Pankow, who talk about their duties for 13-minutes and 14-minutes respectively. Spinotti talks about the difficulties that come with shooting in Venice because of the canals (with him saying that you have to use a local "Venetian mafia" to deal with moving film equipment around) and then gets into a number of the shots in the film.
Pankow's interview is probably the big surprise here and is one of the more interesting I've listened to of its type, Pankow explaining in great detail his process in editing. The guy goes to pretty great length to make sure everything flows appropriately, even visiting sets and locations to take pictures, and even getting floor plans or set designs to aid him. His reasons for doing this is to understand exactly where each character is in a scene, where they're looking, and where they're moving, so when he cuts he gets the appropriate flow and doesn't disorient the viewer. This more than likely served him especially well during the bar scene where Robert tells his story and the camera moves throughout the bar (a scene he talks about to a decent degree here). He also gets into how Schrader shoots, which is very sparingly, so he doesn't have a lot of coverage and angles to work with. Despite this, he figures out how to make it work and not make the film feel repetitive. It was really one of the more illuminating and fascinating interviews I've come across around editing.
Next from the archives is an interview with author Ian McEwan conducted for The South Bank Show in 1981. It's a general chat about his work, with his novel The Comfort of Strangers coming up briefly, accompanied by discussion around the characters and the events within it (even spoiling the ending). But there's more about his TV film The Imitation Game (not to be confused with the Benedict Cumberbatch one, though the topics are very similar with the focuses being very different) and the feminist viewpoint within it. The piece then closes with him going over a libretto he is working on.
It's a great inclusion if just in how it covers the themes in his work, even if the film differs. And the film differs because it has been filtered through Pinter's and Schrader's sensibilities, as both Schrader—in his interview—and critic Maitland McDonagh—in the essay found in the included poster insert—point out. Two Trailers then close out the disc, and they're pretty great relics of the 90s, filled with movie-trailer-voice saying things like "when does lust become obsession?" and "love and madness become one" and "nothing is as it seems" and "no separating tenderness and terror." Great stuff!
Sadly none of the material available on the BFI edition has been carried over (Schrader had recorded a commentary for that release) and nothing academic has been included, outside of the included insert. I also would have expected maybe more around the book and/or McEwan. As it is, the interviews are good and I did get a lot out of it, but it's one of those titles that feels like there should be a lot more.
Closing
Decent supplements that still leave one wanting, but it's good just to get a decent release for the film in North America after it has been inexplicably missing on home video for decades
Series:
The Criterion Collection
Blu-ray
1 Disc | BD-50
1.66:1 ratio
English 1.0 PCM Mono
Subtitles: English
Region A