See more details, packaging, or compare
Synopsis
A small rural town and a family of outsiders, both trapped in the demonic grip of… The Brotherhood of Satan!
Recently widowed Ben, his glamourous girlfriend Nicky and his small daughter K.T. are on a road trip across the Southwest, which comes to a screeching halt when they witness an accident. Heading to the nearby isolated desert town of Hillsboro to report it to the Sheriff (played by L.Q. Jones), they are met with a hostile reaction from the locals, who are gripped by paranoia and fear due to a series of gruesome deaths, as well as the mysterious disappearance of eleven of the community's children. As the bodies continue to pile up around them, Ben and his family find themselves joining the sheriff, a local priest and the town's enigmatic physician Doc Duncan (Strother Martin, Cool Hand Luke) in the midst of a mystery that points towards a deadly satanic cult...
Produced by Alvy Moore and L.Q. Jones, a veteran character actor best known for his work with Sam Peckinpah, The Brotherhood of Satan is an atmospheric and chilling tale of terror that provides a crucial missing link between Rosemary's Baby (1968) and The Devil's Rain (1975) in the cycle of turn-of-the-seventies shockers involving sinister devil-worshipping cults lurking within the dark shadows of modern-day America.
Picture
7/10
Bernard McEveety's The Brotherhood of Satan receives a new Blu-ray edition from Arrow Video, who present the film in its original aspect ratio of 2.35:1. The 1080p/24hz high-definition master used for this edition has been supplied by Sony Pictures Home Entertainment.
The presentation has some of the signs of an older high-def master, particularly a clumpier grain structure. It doesn't have an overtly digital look thankfully, and the image still has a bit of a photographic look. Some minor artifacting can be present in the reds but the image manages to, in the long run, come out looking clean and stable otherwise, no signs of edge-enhancement or severe noise. Even the foggier scenes come off looking clean.
Colours are pretty strong, reds looking decent despite that minor artifacting that was mentioned. Black levels are also strong, with crushing not being a big concern. The restoration work appears to be limited: while there isn't anything I would call severe, there are a lot of scratches and marks popping up consistently.
Outside of these issues detail is surprisingly strong, even though the scan was more than likely taken from a later generation source (maybe an interpositive at best). In all, while the film could certainly benefit from a new scan and restoration, I found it to be generally pleasing.
Audio
6/10
The film is accompanied by a lossless PCM 1.0 monaural soundtrack. Though it shows its age and can get a little edgy during its louder moments it's a clean track on average, delivering decent range and fidelity. Dialogue is also sharp and easy to understand, and the track doesn't present any pops or drops.
Extras
7/10
Arrow has thrown together a fun little edition and starts things off with a new audio commentary featuring Kim Newman and Sean Hogan. It's a well rounded track, the two talking about the film in the context of its time, when there was a growing interest in conspiracy-like films and in the occult, the latter thanks to the success of Rosemary's Baby. The two also compare it to other similar films of the era, mentioning how the film plays off of common tropes to lead viewers astray, and wonder aloud why the film never really gained the cult status they feel it deserves. They also talk about Peckinpah regular L.Q. Jones and his involvement behind-the-scenes on this film and others (A Boy and His Dog of course comes up), along with his apparent interest in the occult. They even touch on his comments around how horror films should be told, which then leads to conversations around the film's somewhat confusing narrative that slowly unravels the plot. It's a sharp, fun little track providing a wonderful appreciation for the film and films of its type.
Arrow then throws in a fun 18-minute interview segment with a couple of the film's child stars, Jonathan Eisley and Alyson Moore. In their commentary track Newman and Hogan joke about how it must be a coincidence that the children share last names with many involved with the film's production. Both Moore and Eisley (recorded separately) confirm that that was not only not a coincidence, but L.Q. Jones was also close to their respective families: he was a friend of the Eisley's and he was also Moore's godfather. The two also share stories around the production and explain what was asked of them. Forgetting the dark plotline and the satanic stuff, it sounds as though the film was a blast to be a part of (though the locations used for the film were apparently dangerous).
The disc also features a new 15-minute video essay called Satanic Panic by David Flint, offering a brief look at how public interest in occult films had built up and led to films like this one. It's a fine little piece though I think Newman and Hogan cover the same ground well enough in their own track.
Arrow then closes things off with a small image gallery featuring some lobby cards and posters, followed by the film's trailer. The release also comes with a booklet featuring a couple of new essays: Johnny Mains expands on Flint's video essay and offers more of a timeline around how books and films related to the occult began to become more mainstream, leading to The Brotherhood of Satan, which is followed by Brad Stevens' essay on L.Q. Jones' eclectic career in Hollywood.
Not a stacked release but Arrow has put a good amount of care into the content they've included.
Closing
Despite the dated master the presentation still manages to come off rather sharp, and the supplements do a fair job in examining the rise of films around the occult during the late 60's and early 70's.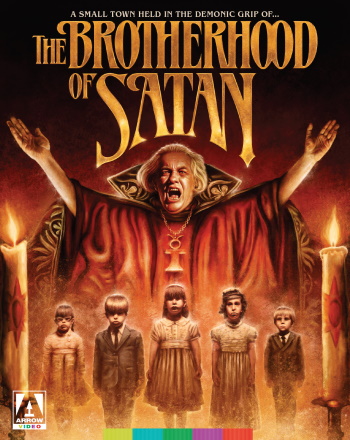 Blu-ray
1 Disc | BD-50
2.35:1 ratio
English 1.0 PCM Mono
Subtitles: English
Regions A/B