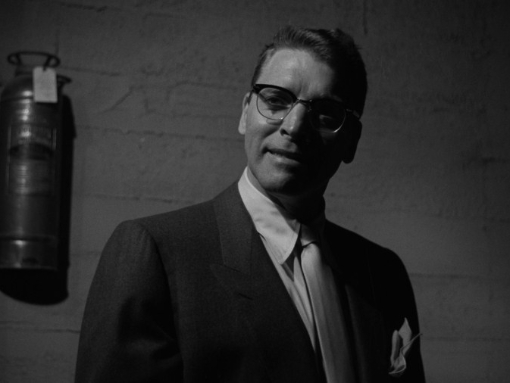 See more details, packaging, or compare
Synopsis
In the swift, cynical Sweet Smell of Success, directed by Alexander Mackendrick, Burt Lancaster stars as the vicious Broadway gossip columnist J. J. Hunsecker, and Tony Curtis as Sidney Falco, the unprincipled press agent Hunsecker ropes into smearing the up-and-coming jazz musician romancing his beloved sister. Featuring deliciously unsavory dialogue, in an acid, brilliantly structured script by Clifford Odets and Ernest Lehman, and noirish neon cityscapes from Oscar-winning cinematographer James Wong Howe, Sweet Smell of Success is a cracklingly cruel dispatch from the kill-or-be-killed wilds of 1950s Manhattan.
Picture
9/10
Criterion presents Sweet Smell of Success in a wonderful new 1080p/24hz transfer in its original aspect ratio of 1.66:1 on this dual-layer disc.
I hate to make such a generalization but for me the transfer is just about perfect. The image is sharp and crisp with excellent definition allowing even the threading in clothing to appear perfectly clear. Contrast is striking with superb gray levels and nice inky blacks without losing any details. Film grain is present though not too heavy and looks natural throughout, while the digital transfer itself didn't present any problems that were noticeable, even the more complex patterns never presenting any shimmering effects.
its only issue are some minor scratches visible throughout, but this is really a minor quibble; the print otherwise is in pristine shape, with a lot of the damage previously noticeable on the prior MGM DVD (which I should mention was not anamorphic) now missing. In all it's gorgeous and more than I could have hoped for upon hearing Criterion got their hands on this title.
Audio
6/10
The lossless Linear PCM mono track shows its age but it's more than acceptable. As expected it's a little flat and lacks fidelity with that wonderful score coming off harsh at times, but the biting dialogue comes through crisp and clear and volume levels are good. A slight hiss is noticeable a few times but otherwise it's clean.
Extras
10/10
Criterion trumps MGM's barebones DVD with a great selection of supplements offering analysis of the film and information about the history of its production and some of its participants.
First is an audio commentary by film scholar James Naremore, who has written fairly extensively about Sweet Smell of Success. Naremore offers a rather brisk and informative track, delivering his own observations about the film, its story, characters, his feelings on the relationship between Hunsecker and his sister, and he talks enthusiastically of the noir-like photography. He also covers the somewhat problematic production, the result of egos butting heads with one another, specifically, by the sounds of it, Burt Lancaster. He also talks about Tony Curtis and his film career to a certain extent (and how the "girlies" who were fond of him were turned off by this film) and also talks about writer Ernest Lehman and screenwriter Clifford Odets, who took over the script after Lehman had what could be called a "freak-out" and fled the set. And while he doesn't consider the film to fit the definition of an "auteur" work he does still give Mackendrick a lot of credit for the final product as he had to be stubborn and be able to control the producers, specifically Lancaster, to get what we get in the film. Naremore also brings up the many script revisions and mentions many alternate openings and endings, and even recites an opening narration that was considered at one point. There's also mention the novella (by Lehman) on which its based, along with mention of Walter Winchell, the gossip columnist who is the basis for the character of J. J. Hunsecker, though there's more about him in another feature on the disc. I was particularly thrilled with the track, finding it breezy and always informative.
Following this is a 1986 documentary made for Scottish television called Mackendrick: The Man Who Walked Away. Running about 45-minutes and divided into 7 chapters it covers his early film career including work he did in Italy after the war, apparently being one of the people who would approve scripts to be filmed (he approved Rome, Open City according to his one anecdote.) He then moved on to Ealing Studios where he made The Man in the White Suit, The Ladykillers and others, and from there it covers his move to Hollywood and briefly covers Sweet Smell of Success and A High Wind in Jamaica. It then briefly mentions his move to teaching at CalArts. It's a little dry but it offers a fairly comprehensive background for the director, and has interviews with him (and with his dry wit he makes a great interview subject,) Lancaster, James Coburn, James Hill, Charles Crichton, and others.
Next up is a brief documentary about the film's cinematographer, James Wong Howe. Made in 1973 and running 22-minutes it's comprised primarily of interviews with the man as he reflects on his career and explains his techniques. While he covers many aspects of his profession, like all the details he has to worry about, catching mood, and working with directors, his real passion lies in lighting. This includes a demonstration by him on how to light a scene for different times of the day, which is the most fascinating segment during the doc. Maybe too short but it's still a fascinating segment.
Gabler on Winchell presents historian Neal Gabler talking about gossip columnist Walter Winchell, the basis for the J. J. Hunsecker character in the film. For the first half of the 29-minute segment Gabler talks about Winchell's career and eventual fall, covering his writing style (with a variety of clippings displayed), his DDL (Drop Dead List), careers he helped make along with ones he either almost destroyed or did destroy, and Gabler also talks about other columnists and the nature of the tabloids during the time period. He then talks about Sweet Smell of Success and makes comparisons to the J. J. Hunsecker character (who Gabler feels isn't a true representation of Winchell) and also talks about the "odd" and almost devastating relationship Winchell had with his own daughter, which served as the influence for the plot of the film. A rather enlightening piece it not only serves as a primer on Winchell but also sort of on the birth to what is modern day gossip "journalism" (using the last word loosely.)
The final interview seemed like a bizarre inclusion at first but has turned out to be a pleasant surprise. Director James Mangold (Cop Land, Walk the Line, Knight and Day) talks about Alexander Mackendrick, who was the teacher he most looked up to while attending CalArts. For 25-minutes Mangold covers Mackendrick's teaching style and his concern over the art of telling a story rather than the technical aspects of making a movie. Mackendrick had a long list of narrative rules that Mangold goes over to some extent, and even points out where these rules are followed or broken in Sweet Smell of Success. He also talks about films they analyzed in class though Mangold mentions that while they did watch Mackendrick's films, the teacher never used them as teaching tools. Mangold has a great amount of respect for Mackendrick and speaks the world of him, respecting most that Mackendrick treated the work of his students seriously, even when it was absolute "drivel." Overall a strong feature about Mackendrick.
The disc then concludes with a 3-minute theatrical trailer that doesn't really explain the film all that well.
Criterion has also included a rather thick 56-page booklet. We first get a lengthy essay by Gary Giddens (whose writing style at first almost imitates something Hunsecker might write) about the film, Mackendrick, HHL productions, cinematographer James Wong Howe, Lancaster, Curtis, and everything else about the production. Following this is a brief introduction Ernest Lehman wrote for a publication that included his novella Sweet Smell of Success, which is then followed by a reprinting of the short story Hunsecker Fights the World, which introduces Sidney Falco and J. J. Hunsecker. The booklet then concludes with a piece written by Paul Cronin about Clifford Odets and his involvement with the script and working with Mackendrick, which then leads into a piece written by Mackendrick about Odets and the film (where he even admits he was unsure about the film's dialogue.) The booklet is also cutely laid out like a newspaper. Another fantastic booklet from Criterion that brilliantly wraps up the set.
Altogether it may not look like much on here but there's a wonderful depth of information here and I found just about all of it fascinating and entertaining, making it a breeze to make my way through everything.
Closing
As a favourite film of mine I am beyond thrilled with what Criterion has given us here, and I'm so glad they were able to get their hands on it. The video transfer is astounding, delivering an incredibly film-like image with very few flaws, and the supplements, which were all fun to go through, offered just about everything I could ever want to know about the film. Just a spectacular release overall.
Series:
The Criterion Collection
Blu-ray
1 Disc | BD-50
1.66:1 ratio
English 1.0 PCM Mono
Subtitles: English
Region A
New audio commentary featuring film scholar
James Naremore
Mackendrick: The Man Who Walked Away
, a 1986 documentary featuring interviews with director
Alexander Mackendrick
, actor
Burt Lancaster
, producer
James Hill
, and others
James Wong Howe: Cinematographer
, a 1973 documentary about the Oscar-winning director of photography, featuring lighting tutorials with
James Howe
New video interview with film critic and historian
Neal Gabler
(
Winchell: Gossip, Power and the Culture of Celebrity
) about legendary columnist Walter Winchell, inspiration for the character J. J. Hunsecker New video interview with filmmaker
James Mangold
about Mackendrick, his instructor and mentor Original theatrical trailer A booklet featuring a new essay by critic
Gary Giddens
, notes about the film and two short stories introducing its characters by screenwriter
Ernest Lehman
, and an excerpt about Clifford Odets from Mackendrick's book On Film-making, introduced by the book's editor, Paul Cronin