See more details, packaging, or compare
Synopsis
Jacques Tati's gloriously choreographed, nearly wordless comedies about confusion in the age of technology reached their creative apex with Playtime. For this monumental achievement, a nearly three-year-long, bank-breaking production, Tati again thrust the endearingly clumsy, resolutely old-fashioned Monsieur Hulot, along with a host of other lost souls, into a bafflingly modernist Paris. With every inch of its superwide frame crammed with hilarity and inventiveness, Playtime is a lasting testament to a modern age tiptoeing on the edge of oblivion.
Picture
7/10
Criterion's Blu-ray edition of Jacques Tati's Playtime is presented in the aspect ratio of about 1.85:1 on this dual-layer disc. The transfer is in 1080p.
I do not actually own the 2-disc reissue, only owning the original single-disc release Criterion put out for the film. I have recently seen the transfer on that 2-disc release (I NetFlixed it!) and it does appear that the same high definition transfer has been used for both (the prints at least look to be in the same shape.) The insert mentions the transfer comes from a "35mm reduction internegative made from the restored 65mm interpositive."
Playtime is a very busy film with lots of activity and detail in every shot and home video isn't really the best way to view the film. Criterion's previous DVDs had their own problems because of the amount of information in the film. Their first DVD was a mess, presenting an incredibly fuzzy image with plenty of transfer issues including edge-enhancement and compression artifacts (it also looked bleached.) The new transfer was a fairly big improvement though still had some issues with detail and the image could still come off a bit fuzzy at times.
I think many will be quite happy with how the film looks on Blu-ray with the format offering a significant boost in picture quality. Detail, the thing lacking on the previous DVDs, has been improved upon substantially. The picture is sharp and crisp, even longer shots presenting far more information than previously. Grain is present, though is actually, to me, not altogether that noticeable. Despite the film's rather sterile, metallic colour scheme (with a few brighter colours thrown in periodically) they do actually look better here, a little more vibrant and cleaner, and blacks are also deeper and richer (and all are a far cry better than the dreary presentation on the original DVD.)
Just comparing the "waiting room sequence" (a long shot of Hulot in a fairly empty, glass enclosed waiting room) between all three releases shows the drastic improvements between each transfer, with the original looking like a blobby mess and the new DVD presenting a fairly sharper picture though still with some instances of edge-enhancement and lacking those finer details. The Blu-ray on the other hand presents a clean, near-perfect representation of the sequence with far more detail in Hulot's face, his clothes, the setting. There was also no sign of edge-enhancement, everything quite clean around the edges. Even quickly comparing one quick shot near the end, where a drunk party guest is admiring the fine details in the marble pillars, presents a drastic improvement in the lines that appear in the marble. Everything is just so much sharper.
I'm sure it still doesn't match seeing it projected theatrically (something I have yet to do) but it looks fantastic, one of Criterion's more impressive Blu-ray transfers and a huge improvement in just about every way over their previous DVD releases. I admit I am not as seasoned as others who have reviewed high-def releases (when I think about it, between HD DVD and Blu-ray I've only seen a small fraction of titles when compared to the countless number of DVDs I've viewed) but I was just so impressed with this transfer for what is visually a very complicated film and I think it looks absolutely fantastic. Despite the small amount of print imperfections (the only thing I can really complain about) I really have to give it a perfect score.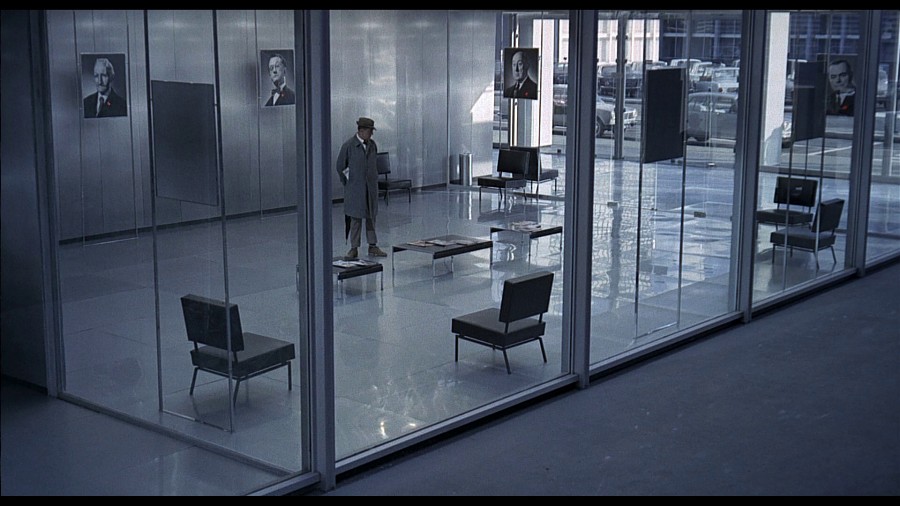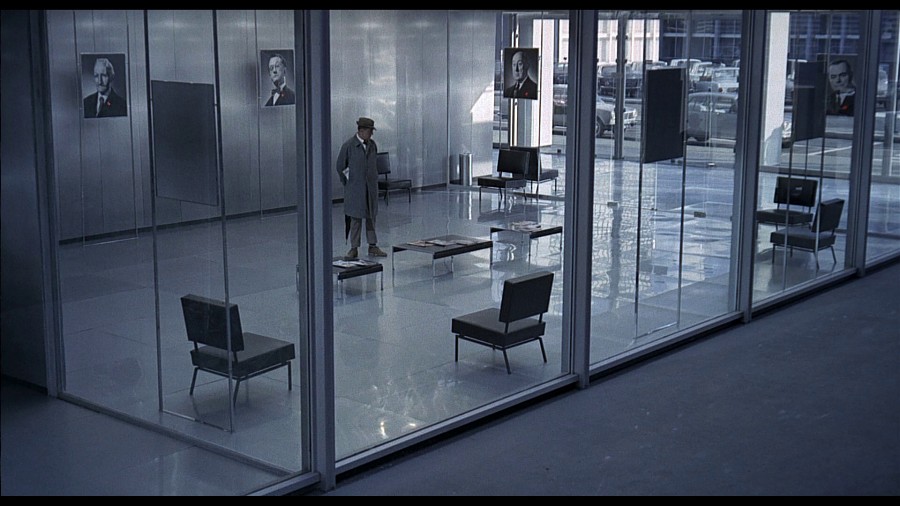 Audio
7/10
The film presents two audio tracks: A lossless 2-channel stereo French track and an "international" track presented in Dolby Digital 2.0 stereo. The "international" track is here as more of curiosity and despite being called "international" it is primarily in English with other languages appearing throughout. I felt the original track was actually more "international" in nature but I guess that's beside the point.
In terms of quality the lossless French track is the one to go with. It does offer an improvement over both DVD editions coming off much sharper and clearer. It also presents a decent amount of bass and some clearer details. The alternate track sounds pretty good quality wise but really lacks the punch of the lossless.
Extras
9/10
Criterion has ported everything over from their two-disc DVD edition (which also ported the few features that appeared on their original single-disc edition) and haven't added anything new.
For this Blu-ray everything is found under the "Supplements" of the pop-out menu.
First up is a Terry Jones Introduction running 6-minutes. It is the same introduction used for the original DVD and what appears on the first disc of the two-disc re-issue. He talks about his initial shock at seeing the film was 70mm and just how wonderful the details were. He talks about the "faux Hulots" (one played by a friend of his) and the grand design of everything, and then again breaks down some gags. He also offers some background on the production (Tati constructed the set, dubbed "Tativille", making this the most expensive French production at the time) which eventually bankrupted the director, the film being a financial failure, which Jones seems to blame on the film being fairly alienating. It's a nice intro and I'm glad Criterion has carried it over all of their editions.
From the 2-disc re-issue is the selected scene commentary by film historian Philip Kemp. For those unfamiliar with this type of track it is simply a commentary that plays over select scenes of the film instead of the entire film. So you don't have large lags the presentation skips through the film to Kemp's comments. In total the track lasts over 46-minutes.
It's an okay track, a little dry. Kemp talks about the troubled production of course and the Hulot character (and a bit about Tati), but throughout he mainly points out the look and design of the film, the sets, and describing some of the subtle details found throughout, and even breaking down some gags somewhat. He also has gathered some information from various people who worked on the film. I liked it overall but must admit I'm glad it's actually a fragmented track because Kemp can be a little dry in his presentation. The track has been divided into 7 chapters.
Au delà de "Playtime" is short 6-minute film covering the production, using behind-the-scenes footage shot during the making of the film and narrated by Stéphane Goudet, who also reads from notes made by Tati. It's a shame it's so short but it manages to cover the troubled production fairly well from inception to its initial failure thanks to the American distributor refusing to handle it (and the film was apparently meant more for the American market) and also covers how the sets were put together with footage even showing the sets as they're being built (and then destroyed.) Short but to the point.
Tati Story is a 20-minute program offering a biography of sorts for Tati. It is narrated in French by Goudet and plays over archival photos and clips from various films, shorts and even his acceptance speech for his César d'honneur. It's a decent short piece, quickly going through his early life and then film career and concluding with his death. It touches on Playtime briefly but it's not the central focus here, other than it leading to his bankruptcy. Criterion's DVD for Trafic presents a longer documentary on its second disc so for those that have seen that doc this one is more of a compressed version and you can probably feel safe in skipping it as I didn't feel it brought anything new to the table. For those unfamiliar with Tati and his work it's a pretty good crash course on the filmmaker.
"Jacques Tati in M. Hulot's Work" is a 49-minute BBC piece from 1976 featuring an interview with Tati taken at the Hotel de la Plage where M. Hulot's Holiday was filmed. The first bit of it focuses on comparing the hotel between the time period in the film and then in 1976 (and today I believe it's still there but is now a Best Western) with the interview actually beginning 10-minutes or so in. While there is a fair share of filler not featuring Tati edited in it's a rather charming interview, with Tati even (more or less) dawning the Hulot character in sequences. In English he talks about his work, the character of Hulot, the art of comedy, Playtime and modern France and its architecture (there's a wonderful little moment where he points to a maquette of Hulot's home from Mon oncle and talks about how this older style of architecture has such life.) It's a great interview piece and Tati makes a wonderful subject. It's a longer feature but certainly one of the best features on here. It's been divided into 7 chapters.
Tati at the San Francisco Film Festival presents audio excerpts from the American premiere of Playtime in 1972 where Tati held a discussion. It's short, running almost 17-minutes (and divided into 4 chapters) and Tati answers some questions from members of the audience which range from the type of comedy to the use of 70mm. Tati also talks about Hulot and his minimal appearance in the film and the film's acceptance in Europe. While his English is a little rough here he's still an engaging subject and it's wonderful actually hearing the man talk about his film.
Next is a 12-minute interview with Sylvette Baudrot who reflects on Playtime, talking about Tati's attention to detail, the hard work that went into many sequences (a scene involving a man walking down a hallway apparently took 3 days to shoot) and the fact that a lot of the metallic walls were actually enlarged photos of metal. It's brief but it's a great piece pointing out a lot of things that in all honesty I've just never noticed before. It's a rather fun interview for this reason.
And making its way from the original DVD is the short film Cours du Soir, made around the same time as Playtime in 1967 and starring Jacques Tati and directed by Nicolas Rybowski, running about 28-minutes. Of the shorts found over the Hulot discs it may be my least favourite but it's not without its charms. In it Tati teaches a class on the subtleties of physical humour, and some of the humour found in here involves the students not being so good at it. I found it maybe a little too long but it works best as a sort of retrospective of Tati's career, recalling some of his more popular moments (his postman even making an appearance.) While I haven't seen how it appears on the 2-disc DVD reissue as of yet it appears to be in far better shape than what was on the first DVD edition.
And similar to all of Criterion's Blu-rays you also get the Timeline feature. You can open it from the pop-up menu or by pressing the RED button on your remote. This is a timeline that shows your current position in the film and like pop-up menus for most Blu-ray releases it appears over the film as it plays. It lists the index chapters for the film and the commentary track, and you can also switch to the commentary track from here. You also have the ability to "bookmark" scenes by pressing the GREEN button and return to them by selecting them on the timeline. You can also delete bookmarks by pressing the BLUE button. This is pretty common on Blu-ray so it's nothing new but I've always liked Criterion's presentation.
This closes off the disc features. Disappointingly Criterion only includes a slim insert with an essay by Jonathan Rosenbaum where he reflects on seeing the film and then actually working for Tati. The original DVD had a solo essay by Kent Jones and while that one isn't found here I actually prefer Rosenbaum's.
A rather solid collection of supplements, Criterion gathering all they could about the film making it a fairly comprehensive special edition and the best of their releases of Tati films.
Closing
I loved this Blu-ray edition. I have a fear I'm overselling the digital transfer but I feel it looks really good and is the best I've yet seen the film (one day I will see this theatrically.) I'm just so pleased with it. The amount of detail is impressive and it clearly improves upon the previous DVD editions. Throw in the comprehensive and informative supplements and you have about as good a release as you can get. Highly recommended.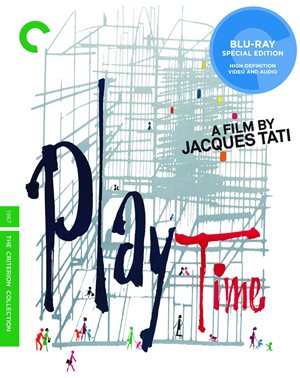 Series:
The Criterion Collection
Blu-ray
1 Disc | BD-50
1.85:1 ratio
English 2.0 Dolby Digital Stereo
French 2.0 DTS-HD MA Stereo
Subtitles: English
Region A
Introduction by actor and comedian
Terry Jones
Selected scene commentary by film historian
Philip Kemp
Beyond "PlayTime,"
a short 2002 documentary featuring behind-the-scenes footage from the production
Tati Story
, a short biographical film about Tati
"Jacques Tati in Monsieur Hulot's Work,"
a 1976 BBC
Omnibus
program featuring
Jacques Tati
Audio interview with
Jacques Tati
from the U.S. debut of
PlayTime
at the 1972 San Francisco Film Festival Interview from 2006 with script supervisor
Sylvette Baudrot
Cours du soir
, a 1967 short film written by and starring Tati Insert featuring an essay by
Jonathan Rosenbaum