See more details, packaging, or compare
Synopsis
This sensual and striking chronicle of a disappearance and its aftermath put director Peter Weir on the map and helped usher in a new era of Australian cinema. Based on an acclaimed 1967 novel by Joan Lindsay, Picnic at Hanging Rock is set at the turn of the twentieth century and concerns a small group of students from an all- female college who vanish, along with a chaperone, while on a St. Valentine's Day outing. Less a mystery than a journey into the mystic, as well as an inquiry into issues of class and sexual repression in Australian society, Weir's gorgeous, disquieting film is a work of poetic horror whose secrets haunt viewers to this day.
Picture
8/10
Peter Weir's Picnic at Hanging Rock gets a much needed upgrade from Criterion, who present it in a new dual-format special edition. The Blu-ray delivers the film with a new 1080p/24hz high-definition digital transfer on a dual-layer disc while the DVD delivers a standard-definition anamorphic transfer on the first dual-layer DVD. Both transfers are presented in the aspect ratio of 1.78:1. Like the previous DVD Criterion presents the shorter director's cut of the film.
In comparison to Criterion's original non-anamorphic DVD this presentation (on either the DVD or Blu-ray) is rather huge improvement. All compression issues are now gone, colours look far better, and detail has significantly improved. The Blu-ray's high-definition presentation is the clear winner, delivering a substantial amount of detail when allowed (a filter was applied to some scenes to make it look softer, as explained in the features,) with crisp clean edges. The film's colour scheme is limited to more earthy tones, but when allowed they really do pop, specifically the greens, which look rich and lush. Black levels are fairly strong, though details occasionally get crushed out in the shadows of low-lit sequences.
The DVD's transfer also looks fairly good, but again the general limitations of the format mar it. Detail isn't as rich, with textures on fabrics or the rock face not coming through as clearly, and compression is more of an issue. But for a DVD transfer it looks nice.
The source is also far better, with only a few minor marks and scratches remaining, all of which are few and far between. In the end the wait was more than likely unnecessarily long, but it was more than worth it as we get a substantially cleaner image that looks incredibly film-like.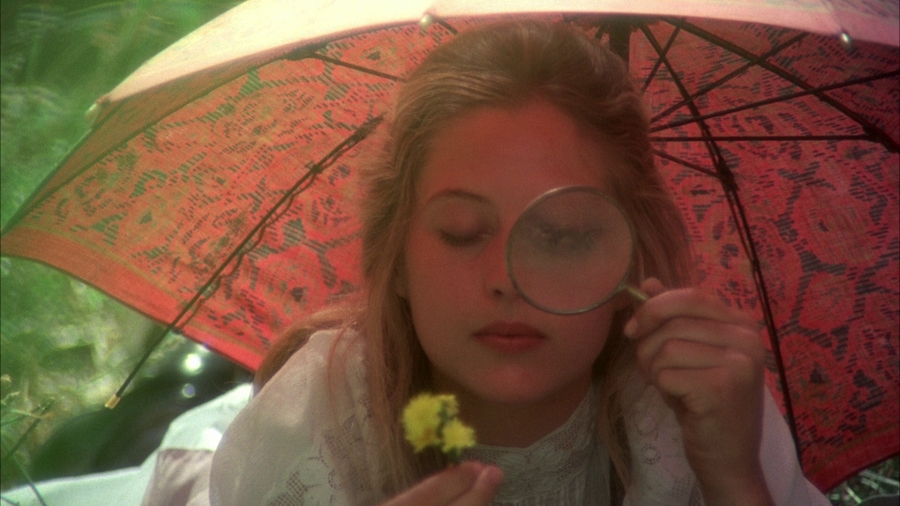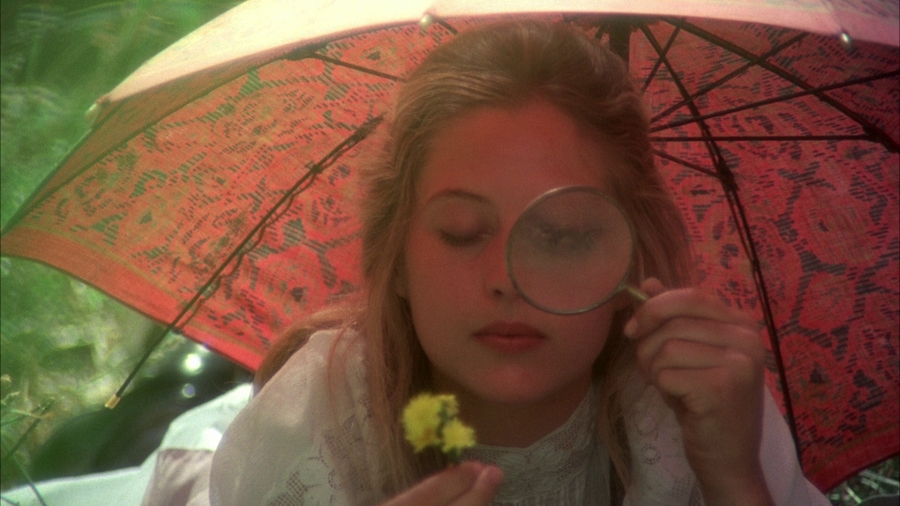 Audio
8/10
Like the previous DVD Criterion again includes a 5.1 surround track, delivered in DTS-HD MA on the Blu-ray and Dolby Digital on the DVD. The surrounds work more to serve the film's fairly haunting score, which spreads out to the surrounds, creating a rather ethereal feel. Dialogue stays mostly to the fronts, but sounds clear and articulate. Depth and range is nice, but the track isn't overly aggressive, remaining low-key and subtle (most of the time,) just like the film.
Extras
8/10
Criterion upgrades special features substantially over their previous bare-bones edition. First they offer a 9-minute introduction by film scholar David Thomson who talks about the impact the film had for the Australian industry, opening up the country's work to the world, possibly thanks to its European style.
Criterion then pulls in a 25-minute interview with director Peter Weir, recorded in 2003, I'm guessing for a DVD release elsewhere. Apparently it was unheard of to adapt a book to film in Australia so Weir was a little unsure how to approach the work. He was able to talk to the author, Joan Lindsay, and it seems he hoped to have her unravel things a bit, even asking her questions he was told not to ask. He realized making a film with no resolution was dangerous and he gives some detail about how he attempted to give the idea a resolution was probably not coming throughout the film, I'm guessing to aid in the possible letdown most audiences would experience. From here he gets more technical, talking about the film's look, the editing, and the film's music, all of which sounds to have just fallen into place.
It's an excellent interview, with Weir explaining his intent, but it's nicely accompanied by a making-of produced by Criterion (though it seems all of the interviews were filmed in 2007, suggesting this new edition has been in the works for a long while.) This documentary, called Everything Begins and Ends, features producers Hal and Jim McElroy, executive producer Patricia Lovell, cinematographer Russell Boyd, and actors Helen Morse and Anne Louis Lambert. The collection of interviews add on to Weir's comments, with the crew talking about the production coming together, getting locations to film at, and what it was like at the mysterious Hanging Rock'most everyone found the location mystical, except Morse admits she didn't find it to be that at all. The importance of Morse's casting is expanded upon, and the producers talk about how they had the desire to make people think the film was based on a true story, but the most interesting portion is probably with Boyd, who talks about capturing the look of the film and how that was accomplished, and his fear of being fired when he explained the needed light was only available for an hour a day while at Hanging Rock. The producers then talk about first showing the film, and the negative reactions they received. It's a fairly typical talking-heads making-of but well worth viewing along with Weir's interview. It runs 30-minutes.
Criterion next provides an archival feature, the on-set documentary A Recollection' Hanging Rock 1900. Running 26-minutes it offers some behind-the-scenes footage, interviews with Weir and other members of the cast (including Rachel Roberts talking a bit about her character.) There's also an brief interview with the author, Joan Lindsay, who talks about first visiting Hanging Rock as a child. There are also interviews with locals, and some talk about how the film and book could be based on an actual missing person's case, and there's also some discussion on what may have happened to the characters in the story. A nice inclusion, if just for the archival interviews with cast and crew no longer with us.
Criterion then includes Weir's Homesdale, a 49-minute short film the director made in 1971. I'm at a serious loss as to how to describe this film, which is one of the more surreal films I'm seen from the director. It seems to center on some health spa where a group of repeat guests show up, with one or two new attendees. They then seem to go through a series of games and/or scenarios at the hands of the staff, with the goal appearing to be bringing certain (patients/attendees/victims) out of their shell. Unfortunately this also seems to include murder, one lifted right out of Psycho. It's labeled as a black comedy and it's certainly off-kilter with a couple of chuckles, but it's definitely dark, with a real sense of unease thanks to Weir's style, which is counter-balanced by the film's absurd up-tempo music. It's an experiment in style and tone on Weir's part and you can clearly see some of his techniques were carried over and improved upon in Picnic at Hanging Rock.
The disc then closes with the film's theatrical trailer. As an added bonus Criterion includes the Penguin edition of Lindsay's novel, though it's the version missing the 18th chapter that explains what happened to the girls. They also include a short booklet with an essay on the film and its themes by Megan Abbott followed by an excerpt from Marek Haltof's book Peter Weir: When Cultures Collide, which goes over the Australian New Wave.
As mentioned first off this edition includes the director's cut of the film, which is actually shorter than the theatrical cut. Unfortunately there isn't anything about this and it would have been interesting to have the alternate original cut (which I still haven't seen) or at least a collection of the scenes cut out. Also missing is anything on the brief printing of the book that actually explained what happened to the girls. Still, the material is engaging and worth going through, and the inclusion of the novel is an especially welcome touch.
Closing
Offering a drastic improvement over the previous DVD, Criterion's new dual-format edition delivers a far better picture and audio presentation, along with some engaging and informative supplements. It comes with a very high recommendation.
Series:
The Criterion Collection
Blu-ray/DVD
3 Discs | DVD-9/BD-50
1.78:1 ratio
1.78:1 ratio
(Anamorphic)
English 5.1 Dolby Digital Surround
English 5.1 DTS-HD MA Surround
Subtitles: English
Regions 1/A