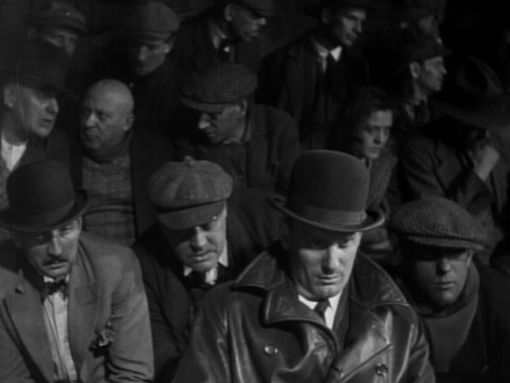 BUY AT:

See more details, packaging, or compare
Synopsis
Behind every great suspense thriller lurks the shadow of M. In this, Fritz Lang's first sound film, Peter Lorre delivers a haunting performance as the cinema's first serial killer, a whistling pedophile hunted by the police and brought to trial by the forces of the Berlin underworld. Grieg's "Peer Gynt Suite" will never sound the same. Criterion is proud to present Lang's seminal film in a new transfer.
Picture
3/10
Though the packaging states 1.33:1 as the aspect ratio, Criterion's original release of Fritz Lang's M looks to be closer to 1.19:1, which is the correct ratio (and what the re-release 2-disc set carries.) The film is presented on a single-layer disc.
The image is lackluster, though really could have been far worse. I think the best thing I can say about it is that the damage to the print is nowhere near as bad as I thought it would be. Still, the film has plenty of tears and marks, and the frame jumps around constantly. There's also a very distracting horizontal line that rears its head during the last half of the film.
The transfer itself is a mixed bag. There are some compression artifacts scattered throughout, though not that heavy. The image is quite soft, though, and there's never a real moment where detail comes off strong. Blacks and whites look pretty good, and contrast appears to be decent if not perfect. The edges of the frame can look a little washed at times.
I remember being fairly happy with this release when I purchased it after it first came out. There was room for improvement but it did look better than other home video releases. But since then Criterion has redone this release as a 2-disc special edition and the transfer on that release is a drastic improvement over this one.
Audio
3/10
The German Dolby Digital mono track is about what one would expect for a film this old. There is a hiss and some noise in the background. It can be a little distorted and muffled, specifically when Peter Lorre's killer is whistling. Dialogue is a little edgy and harsh as well.
Extras
1/10
Other than a brief essay on the film by film critic Stanley Kauffmann there is nothing on this disc. The film deserved more than this and thankfully Criterion remedied this with a new 2-disc special edition.
Closing
It's a bland DVD release with a lackluster video and audio transfer, and no supplements. Criterion has since re-released the film on DVD with a 2-disc set, improving the transfer and loading on some great supplements. I would direct people towards that release, even if you found this one dirt cheap (which you probably can) because the extra money is most certainly worth it for the new release.
BUY AT:

Featuring:
Peter Lorre
,
Ellen Windmann
,
Inge Landgut
,
Otto Wernicke
,
Theodor Loos
,
Gustaf Gründgens
,
Friedrich Gnaß
,
Fritz Odemar
,
Paul Kemp
,
Theo Lingen
,
Rudolf Blümner
,
Georg John
Series:
The Criterion Collection
DVD
1 Disc | DVD-5
1.19:1 ratio
German 1.0 Dolby Digital Mono
Subtitles: English
Regions 1/2/3/4/5/6