See more details, packaging, or compare
Synopsis
Unfolding in a series of mythic vignettes, this late work by Akira Kurosawa brings eight of the beloved director's own nighttime visions, informed by tales from Japanese folklore, to cinematic life. In a visually sumptuous journey through the master's unconscious, tales of childlike wonder give way to apocalyptic visions: a young boy stumbles on a fox wedding in a forest; a soldier confronts the ghosts of the war dead; a power-plant meltdown smothers a seaside landscape in radioactive fumes. Interspersed with reflections on the redemptive power of art, including a richly textured tribute to Vincent van Gogh (played by Martin Scorsese), Akira Kurosawa's Dreams is both a showcase for its maker's imagination at its most unbridled and a deeply personal lament for a world at the mercy of human ignorance.
Picture
10/10
Akira Kurosawa's Dreams receives a much needed Blu-ray release thanks to Criterion, who present the film in its original aspect ratio of 1.85:1 on this dual-layer disc. The 1080p/24hz high-definition presentation is sourced from a new 4K scan taken from the original 35mm camera negative.
For audiences used to Kurosawa's early work, even up to Ran, Dreams is a very different beast. The film has no real narrative, instead made up of eight vignettes supposedly inspired by dreams the filmmaker had had throughout his life (with a bit of a folktale feel to them), which his surrogate character, simply called "I," wanders through. Though I am in way saying Kurosawa's other films are not visual—they most certainly are—Dreams is far more about its visuals than any of his other films, and the level of detail in not just every vignette but every shot. It's an incredible, colourful looking film and I don't think I could be any happier with what Criterion has done with this restoration.
The people who worked on this transfer and restoration really do deliver. We get an incredible amount of clarity here, a high level of detail in every shot, with long shots that looked a bit fuzzy on the Warner DVD looking to have received the biggest enhancement: the improvement in detail with the iconic rainbow shot, the fields in the Van Gogh sequence, and the scene with the peach tree spirits is breathtaking. Another sequence that looks far better is the snow sequence featuring the snow spirit (a Yuki Onna) trying to lull "I" to sleep. The DVD wasn't terrible but the improvement in detail here helps this sequence tremendously, where the snowflakes look a bit more natural and less clumped together: you can make out individual flakes. Film grain, though fine, remains and its rendering is clean and free of noise. This leads to a far more film-like look to the image.
Another big improvement are the colours. The DVD looks good but I found saturation quite a bit better here with the reds, greens, and blues all looking so much cleaner. Black levels also look very good, fairly deep and inky, and I thought shadow detail was excellent. The print also looks to have been cleaned up extensively: I don't recall a single blemish.
A couple of effects shots do still look a little off (the crows in the Van Gogh sequence, for example, still look fake, even though some of them were apparently real) but that has all to do with the source: if anything the new found clarity makes the artificial look more obvious. But I still thought this looked wonderful. Criterion has delivered a truly beautiful image and the film has never looked this good on home video before.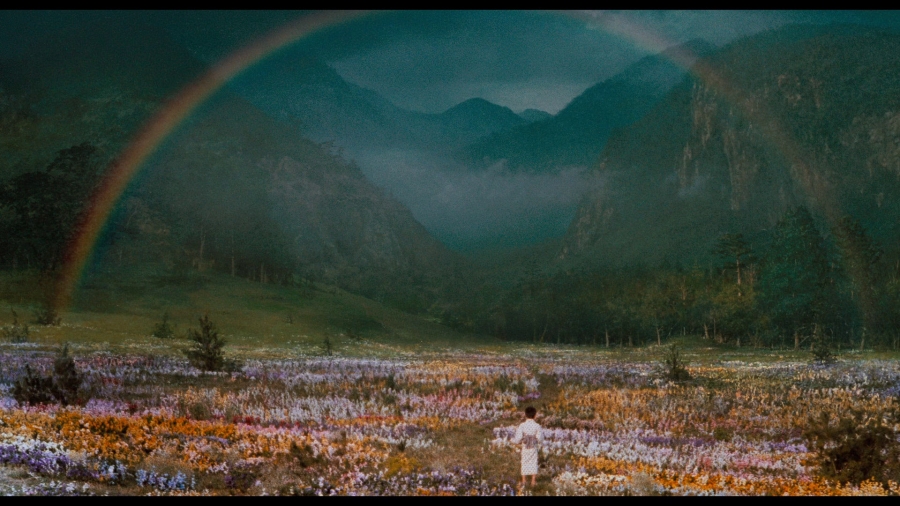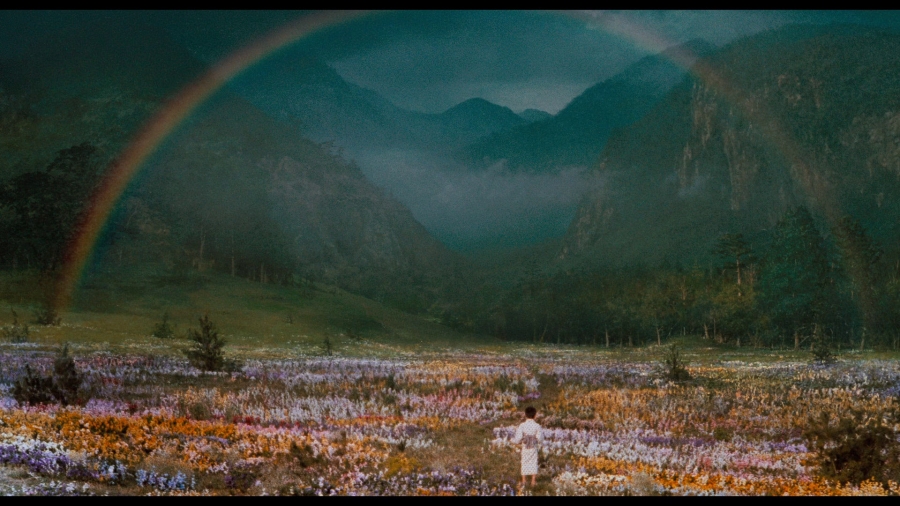 Audio
8/10
The film also has a very lovely 2.0 surround track, presented here in DTS-HD MA. The film's sound design is fairly subtle on the whole but it still has some pretty impressive moments. The track has some decent range and strong fidelity, sounding clear and natural. Both music and dialogue sound sharp and natural, never muffled nor edgy, and I didn't detect any distortion or edginess.
Most of the track remains front heavy, with some subtle effects making their way to the back, but a couple of sequences make great use of the surrounds. The snowing sequence showcases the storm blowing through the environment, and (as Stephen Prince points out in the commentary) it has other little moments in terms of its sound design. Another sequence with the volcano also has some strong surround effects. And despite the fact the rears work in unison they still manage to nicely immerse the viewer.
It's a lovely mix and a fantastic, lively presentation. Perfectly suiting for the film.
Extras
9/10
Criterion does go the extra bit with their supplements, delivering a solid special edition. They first provide a new audio commentary with scholar Stephen Prince, who has provided commentaries for a number of Criterion's Kurosawa releases. It's a solid track, Prince talking about the film's development and release, focusing on some of the more intriguing aspects of its backstory, like Steven Spielberg and Warner Bros. coming to the rescue, how Martin Scorsese was cast as Van Gogh, the work of Industrial Light & Magic, while then sharing information on sequences that were dropped from the film. But the most invaluable contributions are his comments on the influences for the various vignettes in the film, their themes ranging from mortality to the nuclear scare, and going over the autobiographical elements. It's a well-researched, nicely paced track, making a great addition to this edition.
Criterion also includes the lengthy, 150-minute making of documentary The Making of "Dreams," directed by House's Nobuhiko Obayashi. Apparently put together from over 190 hours of footage the film offers some terrific behind-the-scenes footage focusing on the specific vignettes that make up the film. It also offers a look at the film's art design and storyboards with comparisons to the matching scenes. Obayashi also animates the artwork for one of Kurosawa's deleted dream sequences. Edited into all of this are clips from an interview between Kurosawa and Obayashi, where Kurosawa talks about the influences, not just on this film but his work as a whole (Abel Gance's La roue, which he pays tribute to in Dreams, had a huge impact on him). This film was put together on video and is unfortunately laced with some bad video effects (and it also looks fairly terrible quality-wise) but it's a fascinating document on the making of the film and Kurosawa's work.
Also a nice addition is the 2011 documentary Kurosawa's Way, a 52-minute piece on Kurosawa's lasting influence, gathering together other filmmakers like Bernardo Bertolucci, Theo Angelopoulos, Alejandro Inarritu, Julie Taymor, Abbas Kiarostami, Shin'ya Tsukamoto, Hayao Miyazaki, John Woo, Martin Scorsese, Clint Eastwood, and Joon-ho Bong. The filmmakers all recall their introduction to Kurosawa and what struck them in particular about the films and how the influence can be found in their work (I particularly like Eastwood's, who in some small way probably owes his career to Kurosawa, even if it was indirect). Both Woo and Scorsese talk about Kurosawa's editing, Scorsese talking about a specific scene in Ikiru that sticks with him. Scorsese also talks about getting the role of Van Gogh in Dreams and his aim to make the filmmaker happy. I liked hearing from the filmmakers, particularly their more personal stories, but appreciated this piece more for showing the lasting impact of Kurosawa's work.
Criterion then adds two new interviews, one with script supervisor Teruyo Nogami and assistant director Takashi Koizumi. Both explain how the first came to work with Kurosawa (Nogami on Rashomon and Koizumi on the television documentary Song of the Horse) before talking about their work on this film. Nogami talks primarily about Kurosawa's hands on work on the set and all of the work put in by the crew, while Koizumi talks about the development of the script, some of the digital effects, and even Godzilla director Ishiro Honda's participation on the film (it's suspected here and on the commentary track that "The Tunnel" is based on his own WWII experience since Kurosawa wasn't conscripted). Running about 17-minutes and 16-minutes respectively the two fondly recall Kurosawa and their work on this film.
The disc then closes with the North American theatrical trailer and then the booklet contains an excellent essay by Bilge Ebiri on the film's structure and how it differs from the director's other work. The booklet also presents an excerpt of the later abandoned ninth sequence (because of costs) from the original script. Along with everything else, the supplements offer a very satisfying overview of the film.
Closing
Criterion's new special edition delivers on all fronts. It provides a satisfying collection of supplementary material (running around 6 hours) and a superb audio/video presentation that really wowed me. It comes highly recommended, even if you already own the previous Warner DVD.
Featuring:
Akira Terao
,
Mitsuko Baisho
,
Mieko Harada
,
Toshie Negishi
,
Mitsunori Isaki
,
Toshihiko Nakano
,
Yoshitaka Zushi
,
Hisashi Igawa
,
Chosuke Ikariya
,
Chishu Ryu
,
Martin Scorsese
Series:
The Criterion Collection
Blu-ray
1 Disc | BD-50
1.85:1 ratio
Japanese 2.0 DTS-HD MA Surround
Subtitles: English
Region A
New audio commentary featuring film scholar
Stephen Prince
Making of "Dreams"
(1990), a 150-minute documentary shot on-set and directed by
Nobuhiko Obayashi
New interview with assistant director
Takashi Koizumi
New interview with production manager
Teruyo Nogami
Kurosawa's Way
(2011), a fifty-minute documentary by director Akira Kurosawa's longtime translator Catherine Cadou, featuring interviews with filmmakers
Theodoros Angelopoulos
,
Bernardo Bertolucci
,
Clint Eastwood
,
Alejandro G. Iñárritu
,
Bong Joon-ho
,
Abbas Kiarostami
,
Hayao Miyazaki
,
Martin Scorsese
,
Julie Taymor
,
Shin'ya Tsukamoto
, and
John Woo
Trailer A booklet featuring an essay by film critic
Bilge Ebiri
and Kurosawa's script for a never-filmed ninth dream, introduced by Nogami