This is a bad DVD cover post crossed with a recommendation. I noticed that Docurama is repackaging the two amazing documentaries Paradise Lost: Child Murders At Robin Hood Hills and Paradise Lost 2: Revelations with a terrible DVD cover:
I would not hesitate to recommend anyone interested in the films to pick up the Warp Films DVD from the UK. Firstly it has a much better cover!: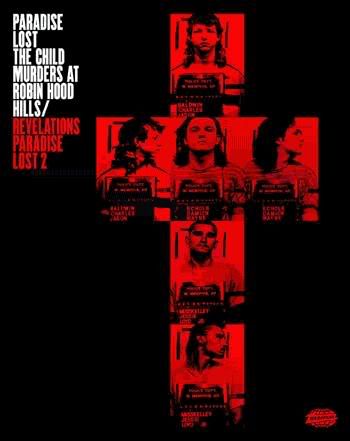 The two discs are also packaged in one normal width DVD case, which might be a bonus for the space conscious! The discs are also in NTSC and region 0 according to the back of the cover, so should work in US players. Also French, Japanese, Italian, Spanish and German subtitles (sadly no English subs)
Most importantly the Warp Films disc contains commentary over the two films (4 hours and 40 minutes in total!) which doesn't feature on the Docurama discs, though the Warp Films DVD doesn't feature the extra 45 minutes of footage of Damien Echols testifying in his defence.