Medusa (Italy) has announced Visconti's "The Leopard" for BD in November 17th. I'm curious to see if they will use the 2010 restoration from The Film Foundation
Il Gattopardo [Italy, 1963]
Tratto dal romanzo di Giuseppe Tomasi di Lampedusa.
Regia: Luchino Visconti
Cast: Burt Lancaster, Claudia Cardinale, Alain Delon, Paolo Stoppa, Rina Morelli, Romolo Valli, Terence Hill, Pierre Clémenti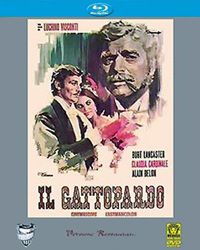 La Sicilia del 1860 viene sconvolta dall'annuncio dello sbarco garibaldino. Il principe don Fabrizio di Salina sceglie per l'annessione del proprio feudo di Donnafugata allo Stato Sabaudo. Inoltre favorisce il fidanzamento del nipote Tancredi con la bella Angelica Sedàra, figlia di un ricco parvenu. Il nipote inizia così la propria scalata sociale nel nuovo ordine, mentre lo zio preferisce restare legato alla tradizione. Unico baluardo di un mondo in via di dissoluzione, il principe sente forte il senso della fine, e quando durante il ballo, per festeggiare la scongiurata rivoluzione, si vede attorniato da gente ormai troppo diversa da lui si rassegna a morire. Critica al trasformismo della classe politica, pronta a indossare l'habitus nuovo per inscenare la solita storia, "se vogliamo che tutto rimanga com'è, bisogna che tutto cambi", il film di Luchino Visconti è perfetto nella ricostruzione storica. Palma d'Oro al Festival di Cannes.
Lingue principali: Italiano / Audio Italiano: 2.0 DTS-HD
Sottotitoli principali: Italiano per non udenti, Inglese per non udenti
Rapporto schermo: 2.35:1 Anamorfico
Extra
Intervista esclusiva al produttore Goffredo Lombardo
Speciale: Il Gattopardo - Un viaggio nella memoria
Documentario sul restauro con intervista a Giuseppe Rotunno
Cinegiornale
Cinecronaca
Galleria dei bozzetti dei costumi di Piero Tosi
Galleria fotografica
Galleria fotografica delle scenografie di Mario Garbuglia
Libro de "Il Gattopardo" di Tomasi di Lampedusa.
Rocco and His Brothers Blu-ray Coming Up
This winter, French distributors TF1 Video will release on Blu-ray Luchino Visconti's acclaimed Rocco e i suoi fratelli a.k.a Rocco and His Brothers (1960), starring Alain Delon, Claudia Cardinale, Renato Salvatori, Annie Girardot, and Nino Castelnuovo. In 1960, the film won Special Prize and FIPRESCI Prize at the Venice Film Festival. Street date is December 7th.
In the U.S., Rocco and His Brothers is currently out of print (the last DVD release was produced by Image Entertainment). In the UK, the film is distributed by Eureka Entertainment and is currently available on DVD as part of the Masters of Cinema series.