I opened up my copy of the Bernard set last night and watched Wooden Crosses. What a film, and it is almost criminal that it has been so neglected over the years! Something I didn't see mentioned in the thread yet, but was extremely impressed by was the use of montage in key sequences and the use of contrasting silence and sound (up there with M in my opinion. Is is just me or was there more confidence in using complete silence to highlight moments or against moments of great noise in films of this era that was lost somewhat when sound needed to be used constantly as if to continually affirm its presence? I love these early sound films where you can have a seeming disconnect between sound and image that works emotionally and artistically without having to provide a concrete cause for that incongruity).
There are also some neat visual connections - I particularly liked in the ten day assault scene the throwing of grenades from the shoulder mounted bags that made the soldiers seem sort of like farmer spreading seeds on a field. Though these particular 'seeds' were going to destroy rather than cause new growth.
I also liked the way that the imagery of happy pre-war lives was presented as little tableaus. Similarly I thought the imagery of Sulphart's obliviously exuberant description of the squad's activities to Gilbert's shocked and disturbed parents was a comic highlight! There seemed to be lots of actions that raised disturbing parallels - the men entering the mined bunker to their certain death while our squad barely escape had me thinking about the way that seeing someone die seemingly 'in your place' or through bad timing could push people to the edge of sanity. Why did they die and you survived? Will you be able to fight for them as well as yourself? Will you be able to take on the responsibilities of informing their families? And what happens if you take on this generalised guilt and then die yourself? Those who initially died are then yet another degree of separation away from acknowledgement.
I'm glad to see comments about the pyrotechnics during the battle sequences and agree with zedz that the sequences were made immeasurably more powerful by seeing people and explosions in the same frame, and to not immediately cut away but instead see the landscape changing as smoke drifts across the scene. It felt very close to a vision of hell, especially following the final benediction in the church scene before the despatching to the battlefield.
One of the other aspects of the film that I particularly liked was the introduction of 'sentimental' notes only to deepen their impact through 'real world' application. Such as the scene moving from Gilbert at Varion's graveside to the church where we initially get the mass and Ave Maria tugging the heartstrings in a classical manner, along with the introduction of the wounded in the barricaded off area of the church. Then it shifts from that to Gilbert's speech about accepting anything as long as they can live and not lose faith, with the groaning of the wounded providing a new soundtrack (which prefigures the final scene).
Incidentally, this is another scene where the layers of imagery comment on the action. The DVD Beaver review has a capture of the statue Gilbert speaks to, yet I think the scene becomes more powerful during the moments of transition to the crowd leaving the church. This might have been a better capture: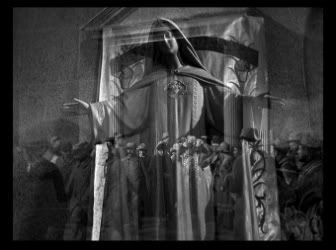 Then there's the scene of Bréval's dying speech. Surrounded by his companions, already laid out in a tomb, he delivers an unexpectedly scathing indictment of his philandering wife and then recants for the sake of his daughter. It not only blows up (literally in the barrage which follows that explodes the tomb he has been laid in! Even the dead are assaulted) those cliches of "tell my...wife I...loved...her *flump*", it gives Bréval a chance to open his heart to his companions and yet still allow his family to live in blissful ignorance in the constancy of his love.
It also feeds in to Gilbert's understated (thankfully!) relationship with his own girl back home. The usual photograph and perfume are there but that highlighted phrase in her letter about having broken a heel while dancing that Gilbert reads in the grave/trench in the same cemetery just before Bréval's shooting, shows she is similarly living a very different life, that the frivolous world still continues barely touched by the war while soldiers are dying.
In a way this connection underlines that the film is truly Gilbert's story - it begins with his billeting to a squad and ends with his death. He also mourns Varion perhaps more because a tenuous link with his home town has been severed early on. He is the one standing for the many, just another dead soldier with a mother at home. For me that point of view shot just after Gilbert is shot is devastating - he looks around at the other bodies of anonymous soldiers lying dead and there's that realisation that this is his fate as well - he's not special except to us (this also reminded me of those scenes in the shop, the church, the pub or the mess halls where there are lots of other groups of soldiers having conversations like our group, whose stories we don't follow but can maybe infer will have a similar trajectory).
I found that moment almost physically painful myself with that revelation as we are so forcefully shown the world through his eyes throughout the film (unlike say Bréval or Varion, though their deaths touch us) that his impending and inevitable return to anonymity adds to that sense of waste. He's as anonymous to anyone else as those soldiers entering the bunker to die in the explosion were earlier on - we don't
want
to look at them as individuals because there's no way they'll live, but with Gilbert there is no escape from an emotional connection and so the audience dies with him. His dragging himself a little further on seems less an attempt to survive but more a futile attempt at escaping a spot on which he is destined to die. The masterfully complex montage of his companions, his girl breaking her heel, his parents, the city, the soldiers provides an extremely moving representation of a dying man's final thoughts. The layers of imagery of imagined moments, remembered moments, comments on a life, condemning of it and their blending together and slipping away all at the same time until he joins the procession of the dead.
It took a long while for me to recover from the impact after the film had come to an end, and to reflect on it.