Eclipse Series 25:Basil Dearden's London Underground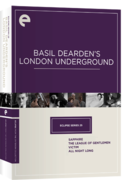 After mastering the mix of comedy, suspense, and horror that helped define the golden age of British cinema, Basil Dearden (along with his producing partner Michael Relph) left the legendary Ealing Studios and, in the late fifties and early sixties, created a series of gripping, groundbreaking, even controversial films. In dealing with racism, homophobia, and the lingering effects of World War II, these noir-tinged dramas burrowed into corners of London rarely seen on-screen. This set of elegantly crafted films—Sapphire, a dissection of a hate crime; The League of Gentlemen, a deft heist adventure suffused with postwar melancholy; Victim, a landmark gay character study, starring Dirk Bogarde; and All Night Long, a provocative transposition of Othello to the swinging London jazz scene—brings this quintessential figure of British cinema out of the shadows.
Sapphire
Basil Dearden's bold, direct police procedural, starring Nigel Patrick as the detective in charge of the investigation, is a devastating look at the way bigotry crosses class divides, and a snapshot of late-fifties England's increasingly interracial culture.
The League of Gentlemen
A delightful cast of British all-stars, including Richard Attenborough, Bryan Forbes, and Roger Livesey, brings to life this precisely cali­brated caper, which was immensely popular and influenced countless Hollywood heist films.
Victim
Basil Dearden's unmistakably political taboo buster was one of the first films to address homophobia head-on, a cry of protest against British laws forbidding homosexuality.
All Night Long
Othello
is translated to the world of sixties London jazz clubs in Basil Dearden's smoky and sensational
All Night Long
. This daring psychodrama is also remarkable for its on-screen appearances by such jazz legends as Charles Mingus, Dave Brubeck, and Tubby Hayes.