LUBITSCH IN BERLIN: FAIRY-TALES, MELODRAMAS, AND SEX COMEDIES: SIX FILMS BY ERNST LUBITSCH, 1918–1921
Special Features
• Six ThinPaks enclosed in a hardbox
• Accompanied by Robert Fischer's feature-length 2006 documentary
Ernst Lubitsch in Berlin: From Schönhauser Allee to Hollywood
• Newly commissioned scores
• New, officially licenced transfers from restored materials
• New and improved optional English subtitles with original German-language intertitles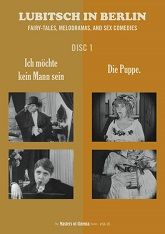 Ich möchte kein Mann sein
One of the first collaborations between Lubitsch and the exuberant Ossi Oswalda,
Ich möchte kein Mann sein
[
I Wouldn't Like to Be a Man
] is a concise sketch of society life in three acts. When Ossi's uncle goes away on a business trip, a new guardian steps in to tame the distractable niece. But Ossi finds a way out of the house and into a grand ball… by way of a brazen cross-dressing scheme — and triggers what is perhaps Lubitsch's most twisted finale.
Special Feature
• New short essay by Anna Thorngate
Die Puppe.
"Four amusing acts from a toy-chest" — so reads the opening title of the comic masterpiece
Die Puppe.
[
The Doll.
] adapted by Lubitsch and co-scenarist Hanns Kräly from a libretto by A. M. Wilner (based in turn on a tale from E. T. A. Hoffmann). Ossi Oswalda stars in a double-role as both the mischievous daughter, and automatonic creation, of a wildly coiffed "dollmaker". When a wealthy baron decides the time has come for his prudish nephew to take a wife, an uproariously ribald plot unwinds into what is perhaps the world's first-ever sex-doll comedy.
Special Features
• New and exclusive concertina score composed, performed, and recorded by Bernard Wrigley
• New short essay by Ignatiy Vishnevetsky
Die Austernprinzessin.
As
Die Austernprinzessin.
[
The Oyster Princess.
], Ossi Oswalda makes another turn as a plutocrat's rambunctious daughter — now the heiress of a global oyster empire, devoting her wiles once again to the service of man-ipulation. A comic high-point in the master's oeuvre,
Die Austernprinzessin.
showcases the trademarks of the "Lubitsch Touch" and its ten-fingered dexterity, resulting in a film that is simultaneously clever, concise, and risqué.
Special Feature
• New short essay by Ignatiy Vishnevetsky
Sumurun
By turns melodramatic and grotesquely comic,
Sumurun
brings together performances by star-players Paul Wegener (
Der Golem.
), Pola Negri, Harry Liedtke, and Ernst Lubitsch himself (in the role of an ultra-pathetic hunchbacked minstrel) for this ensemble tale pulled from the milieu of
The Arabian Nights
. Featuring hundreds of extras milling through open-air set-pieces and dusky harem-chambers alike,
Sumurun
demonstrates Lubitsch's ability to transfigure rote romance into vibrant pageant.
Special Feature
• New short essay by David Cairns
Anna Boleyn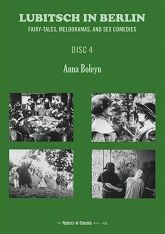 Emil Jannings plays King Henry VIII in the story of Anne Boleyn's movement from the outskirts of the court, to the royal boudoir, and off to the chopping-block. Suffused with an atmosphere of entrapment that would not be out of place in later films by Fritz Lang, and prefiguring the stately contretemps in John Ford's
Mary of Scotland
,
Anna Boleyn
proceeds with a deathward momentum unique in Lubitsch's oeuvre.
Special Feature
• New short essay by David Cairns
Die Bergkatze
Set in one of Lubitsch's hallmark mythical kingdoms,
Die Bergkatze
[
The Mountain-Lion
/
The Wildcat
] finds Lubitsch in exuberantly expressionistic mode, employing a host of optical masks to create perhaps the most visually audacious comic spectacle of his career. Pola Negri plays the daughter of a band of thieves; seduction of army commander (and audience) ensues. Lubitsch's personal favourite work of all his German films,
Die Bergkatze
represents a peak in both Lubitsch's silent oeuvre and the silent cinema as a whole.
Special Feature
• New short essay by Anna Thorngate